Tecnica Forge GTX Boots - Women
Availability:

In stock

(1)
Specifically designed for women, the fit and performance of the women's Tecnica FORGE GTX offers female trekkers the ultimate experience for long days on the trail. Features Nubuck leather, all the innovative technologies and is built around a fully anatomical women's specific last. This last is built around the shape of the female foot with reduced volume in the heel, forefoot and instep areas as well as women specific positioning of the malleolar pads. The C.A.S. customizable footbed is also pre-shaped on a women's last further enhancing the performance and comfort. The result is a great out-of-the box fit. The customization capabilities fine-tune the fit especially addressing those who need more foot and heel hold eliminating the pain and blistering that results from shoes that are not lasted for women. 
The Forge comes with the first high-end, customizable footbed built specifically to match the unique last of our boots. All the benefits of a customized arch support without the disadvantages (trimming and changing the foot positioning) of expensive after-market solutions.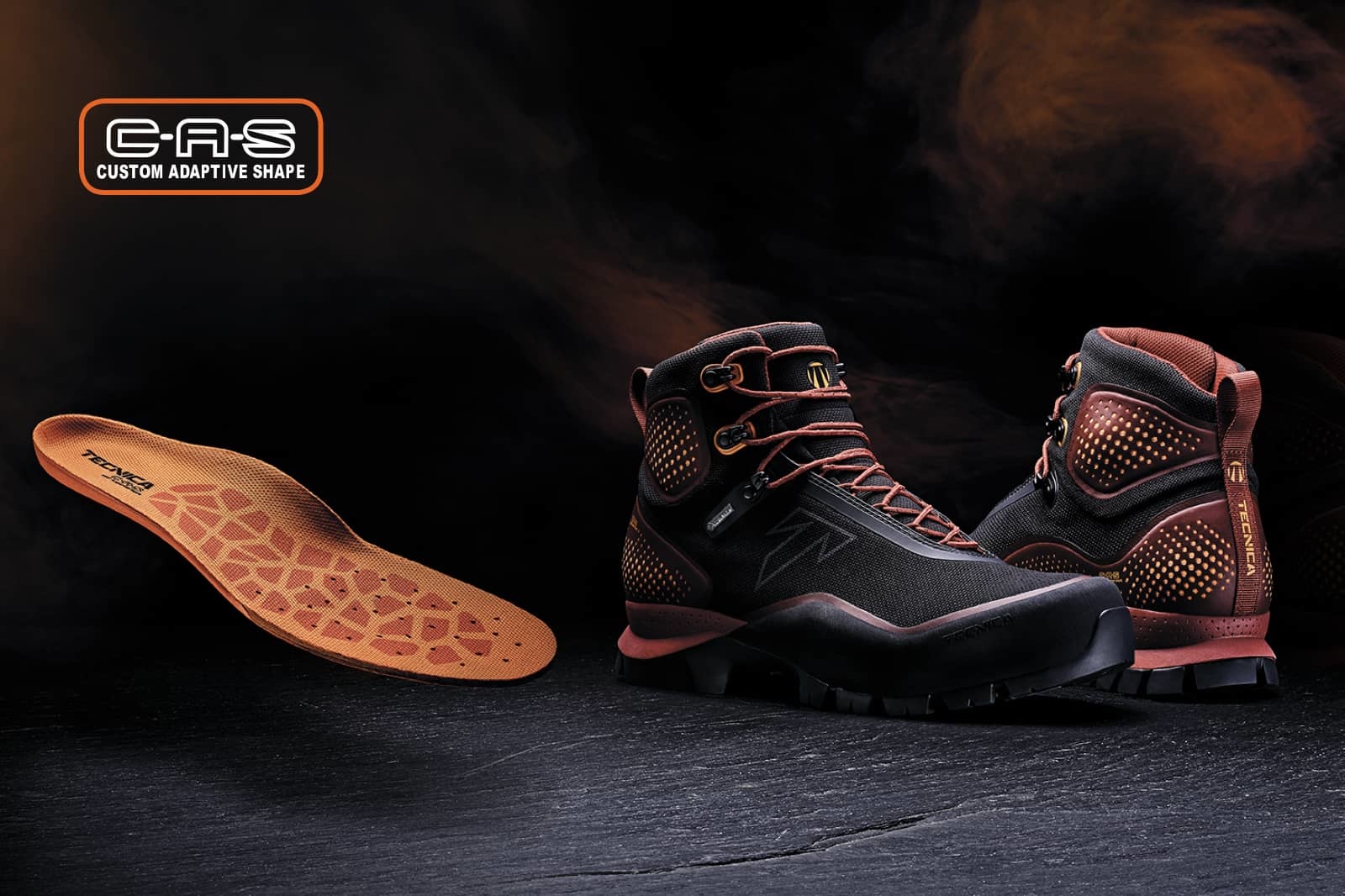 Tecnica Forge GTX Boots Features: 
The first heat-customizable upper in the outdoor industry. Offers a high level of foot-hold, support and comfort; tailor-made around each foot.
Perforated breathable zones C.A.S. (Customizable Adaptive Shape)
Supportive Trekking specific designed thermo-formable inserts and Customizable EVA layer on the forefoot and heel shock areas offers comfort and cushioning .
Customizable ankle pads adjust the size and positioning of the malleolar pads to accommodate the wide range of customer needs.
Elastic fabric and Gore-Tex® lining on the collar area allows easy step-in.
High tenacity Kevlar loops are used instead of the classic metal hooks which, in combination with a unique rugged lace surface, are self-locking.
Out-of-the box fit experience that is both comfortable and precise. 
Specs: 
Upper: 1,8mm Nubuck leather with stretch fabric base
Lining: Gore-Tex® Extendend Comfort Footwear
Outsole: Vibram® Forge with Megagrip compound
Midsole: Adaptive system; 2 Layers of EVA combined with 1 layer of ESS
Footbed: C.A.S. Customizable - Trekking
In just 20 minutes in-store, you can have the only shoes in the world shaped for your feet!

Inspired from ski boot design, Tecnica has create an innovative overlap collar design allowing to attain the maximum comfort and performance.

Self-locking and ultra-resistant lacing system with Kevlar loops.

A true, fully anatomical last, including malleolar pads and a fully supportive arch.

Anatomically shaped ankle with malleolar pads for a fully pre-shaped cuff.

The oversized lugs are reversed to increase the contact of the rubber with the surface.

Vibram® Megagrip Compound delivers the ultimate level of grip and durability on all surfaces and terrain.
0
stars based on
0
reviews