All in all, this route makes for a great day out moving up snow and ice slopes, with a chance to swing some tools and place some rock gear along the way. (read time: 6 min)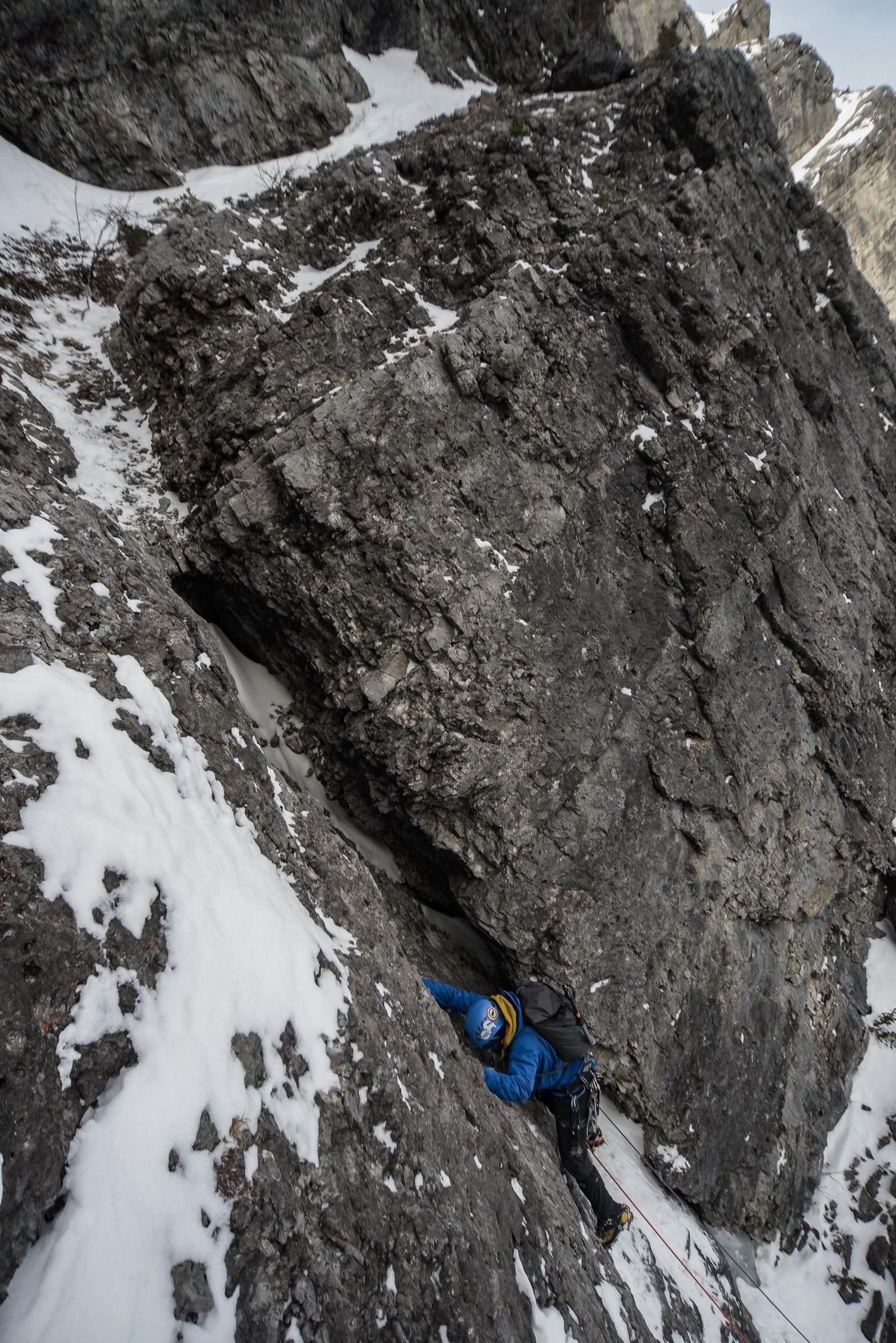 Ice, trad, route finding, and a true summit to top off the 700m day. For some of us, time spent honing our skills at the crags are in preparation for days like these. With low to moderate difficulty, a wide range of necessary skills needed, and a full day adventure, Coire Dubh Integrale makes for a great introduction to alpine climbing.
Route
Location:  Loder Peak, Alberta
Time:  7.5hrs, car to car
Style:  Alpine Grade III, W3 5.7
Length:  700m, 2-5 pitches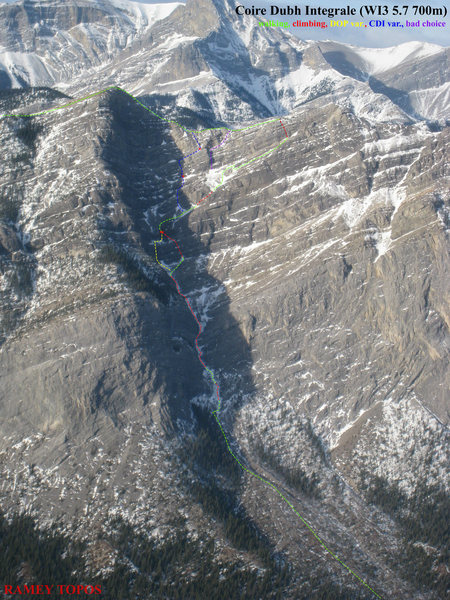 Climbing Gear and Hardware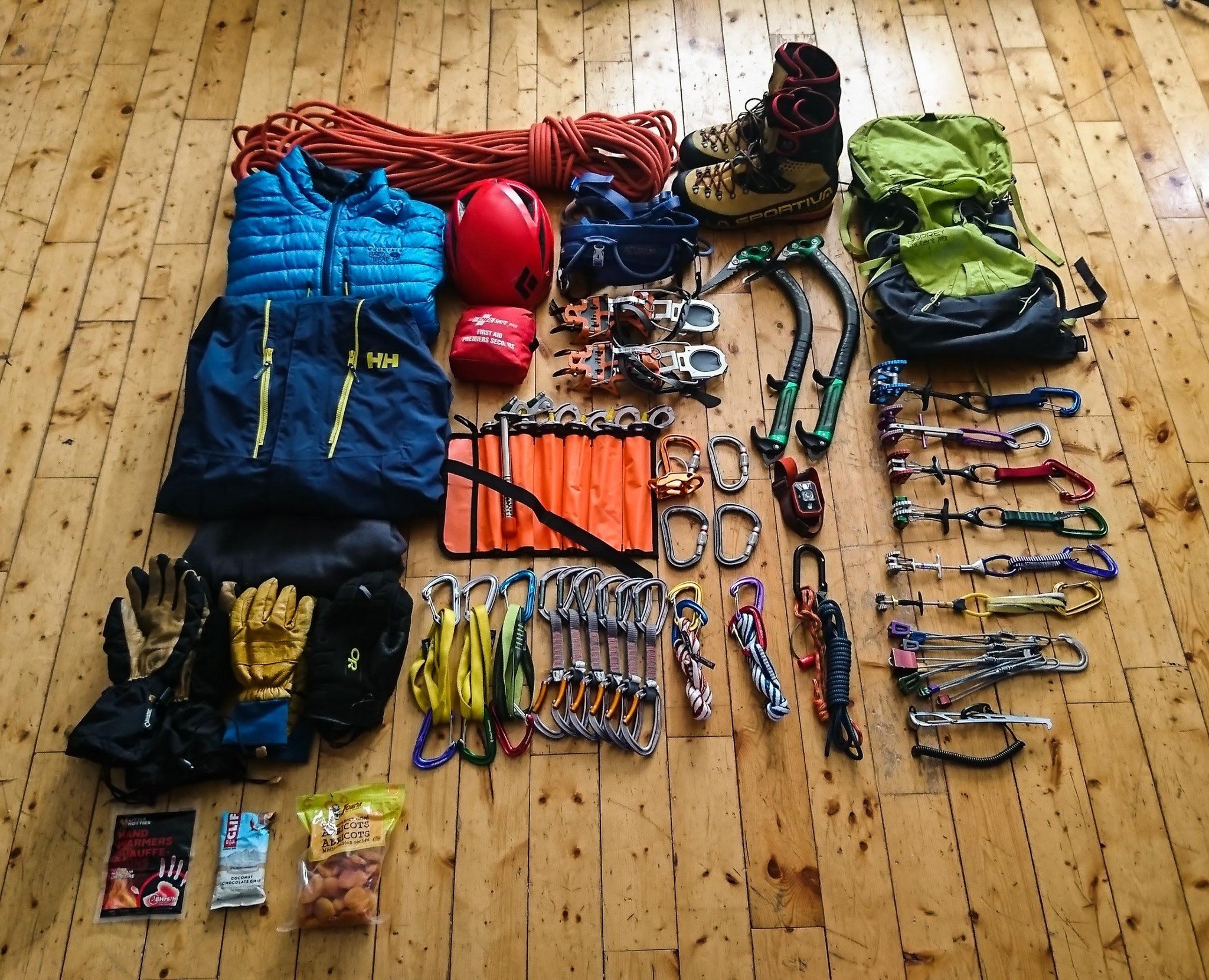 Screws - 5x13cm ,1x16cm, and of course the 21 cm bailout/v-thread screw. We chose a smaller rack of Petzl Laser Speed ice screws, only expecting one real pitch of WI3 with options for anchors at the top.
Rock Gear - A single rack of camalots to 3", as well as a set of nuts.
Draws - Alpine draws x3 and quickdraws x6. Due to the nature of some rock placements, I would've preferred more alpine draws than quickdraws.
Rope - With no plans to rappel the route we opted for a 60m Sterling Nano 9mm, which evidently would've been fine in the event that we had to bail.
I climb in Cassin Blade Runner crampons as I am a fan of the fit, and just how versatile they are with the option of dual, mono, or even horizontal front point configurations. I opted to keep them in a dual point set up for the added stability on ice and snow, confident mono would be unnecessary for the rock section.
DMM Apex's were the weapon of choice for the day. Versatile and burly. What else could I ask for?
Petzl Adjama harness, with Petzl Caritools.
Helmet - The Black Diamond Vapor. Save some weight, make a fashion statement, and show everyone just how many times you've bumped your head or dropped your helmet as it seems to mark easy, but its light, it breathes, and for a climbing helmet it looks half decent
Personal Kit - Petzl Reverso with two lockers, two extra lockers, cordelette bundle and personal prusik, an anchor kit and v-thread supplies. This packing list can be found here.
Extras - Headlamp, small First Aid Kit, hand warmers, tiny repair kit, one liter of water, a few bars and some dried fruit.
Pack - My personal day pack of choice has been the Osprey Mutant 28 for almost a year now. I've found it to be the perfect medium between a lightweight minimalist pack, and one that's overloaded with unnecessary features that seldom see use. It carries weight well, has a helmet and rope carry, can carry skis in an a frame, but can be stripped down to shave weight, and seems to be the perfect size for a days worth of gear and my DSLR.
Coire Dubh Integrale Trip Report
There was no big surprise when we forced our doors open into the full force of the prairie winds that seem to frequently sweep the area along the front ranges. Parking in the paved lot across from the landfill, about 2 km or so east of Exshaw, we started our early morning approach with hoods over our heads, and lamps illuminating not much more than clouds of dust being thrust in our face by the wind, hoping conditions might be better in the shelter of the drainage we were heading for.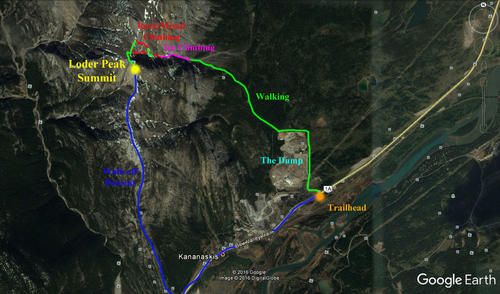 For the approach, walk across the road and head towards the landfill, taking the climbers trail along the east side of the fence and around the back side of the landfill. Head NW from there on what should be a well-established trail, making sure not to turn off too early and head into the wrong drainage (this seems to be a common occurrence).
Pitch One (WI3) - 25m.
This pitch forms fat and wide offering some steeper ice up the center or some more mellow WI2 options on the sides. Though the rest of the climb didn't seem to see any sun, this first pitch was getting the full brunt of the sunrise, which was evident as it reminded me of the same rotten ice you'd get on something like melt out. The top out has multiple anchor options.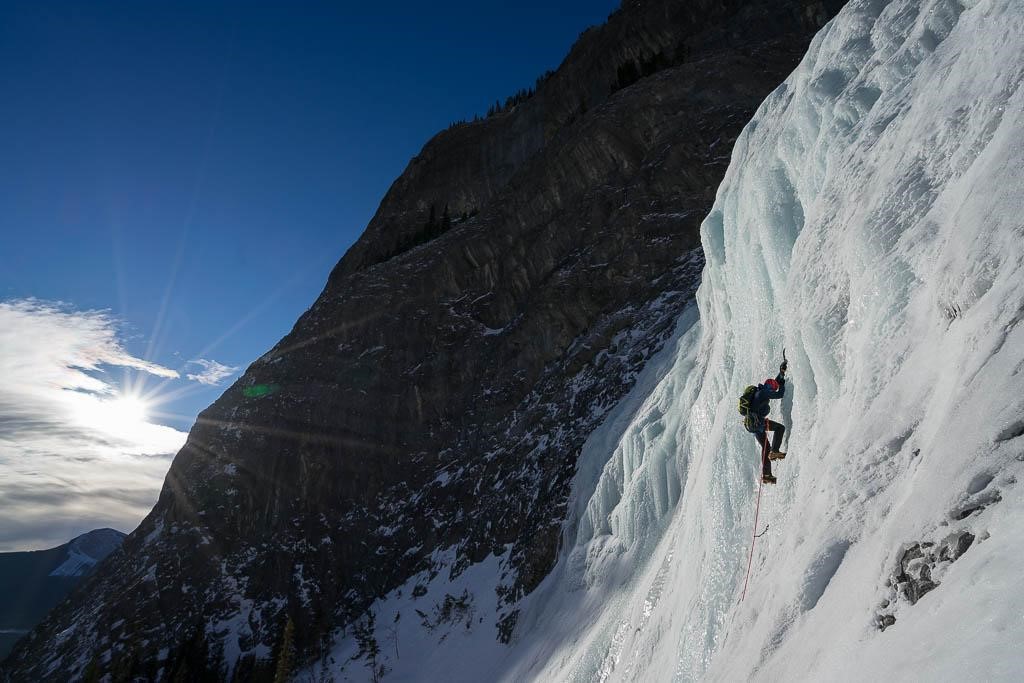 Photo: Taylor Sullivan
Making a few mountaineer coils, we decided to simul-climb the next couple hundred meters to the rock pitch, as it mainly consisted of boot-packing wind packed snow with the odd bit of rambling ice throughout.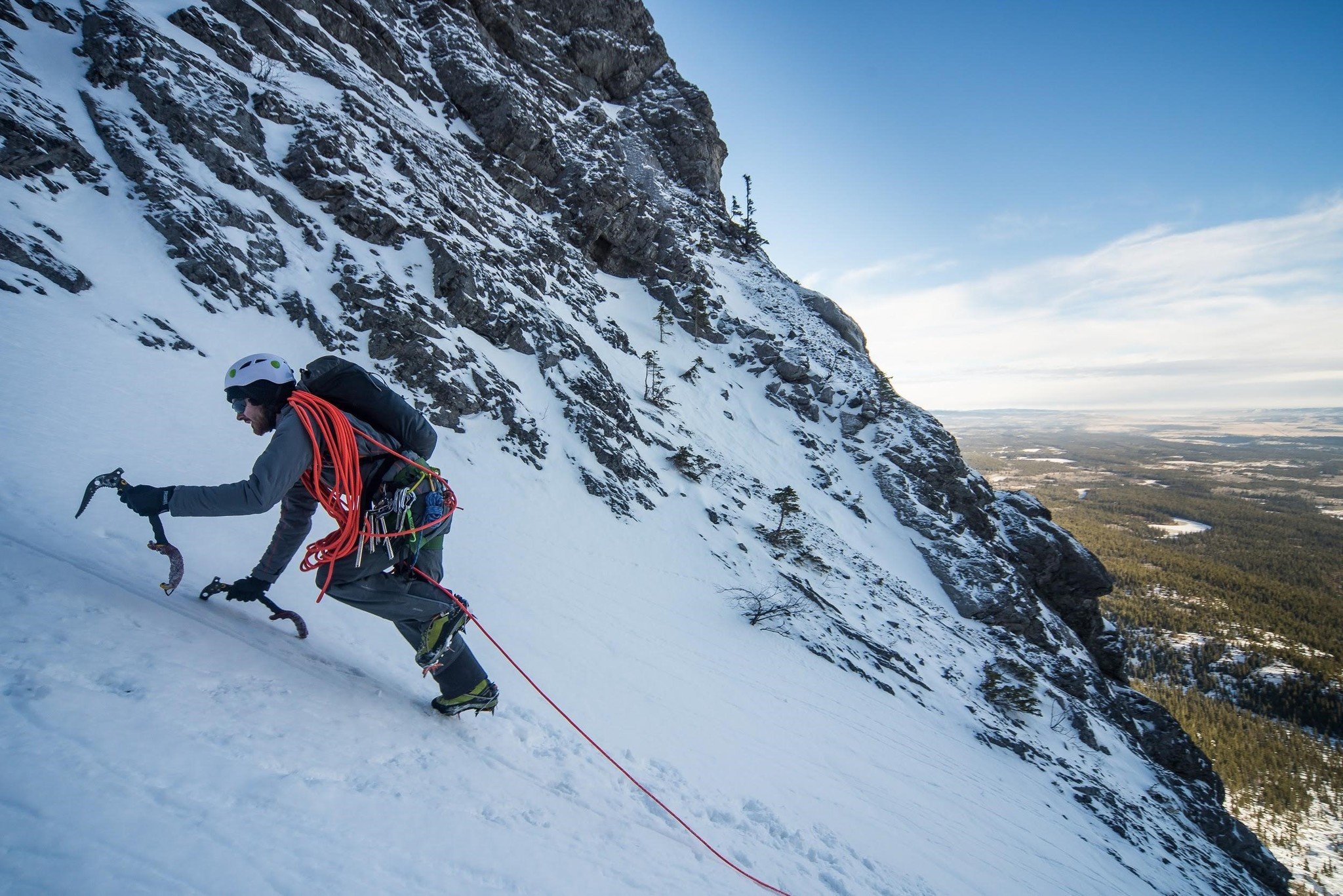 We reached a short step of WI2 ice that was about 8m or so just below the rock pitch. We decided to carry on simul climbing through this, however, some may decide to pitch it out deciding on comfort level.
Pitch 2 (5.7) - 30m
Climb the left facing corner at the right of the face to a tree anchor. Not being a strong mixed climber, this was the pitch that had me anxious, however, it really never felt more than 5.7 with crampons on. This low angle slab is full of pockets and features that make climbing with gloved hands or tools a breeze. A few nuts and a few cams protected this pitch well.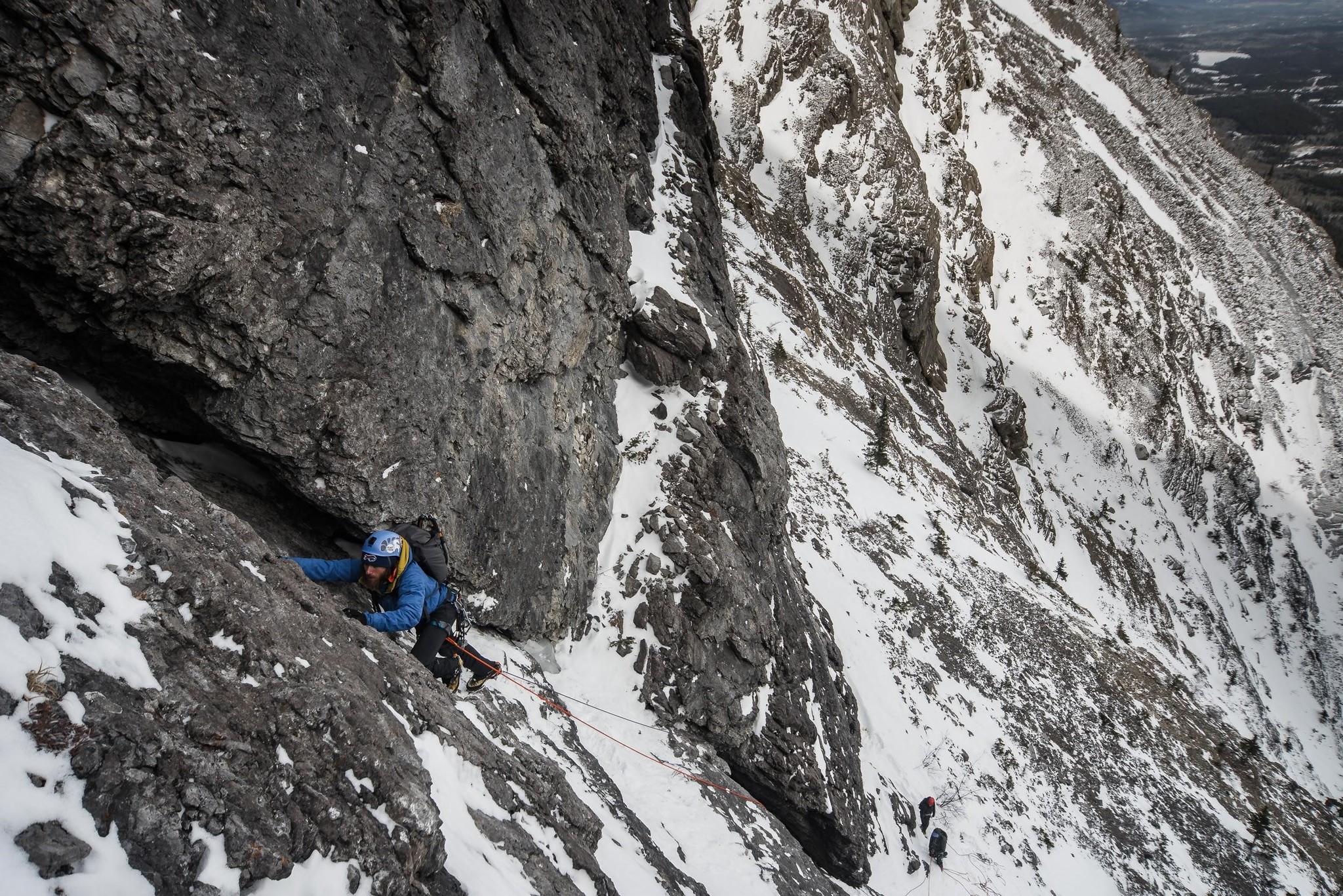 A short scramble to the left of the climb brought us to the next snow-covered scree slope. Having not planned to take the direct route, we headed right up some more rambling ice and snow.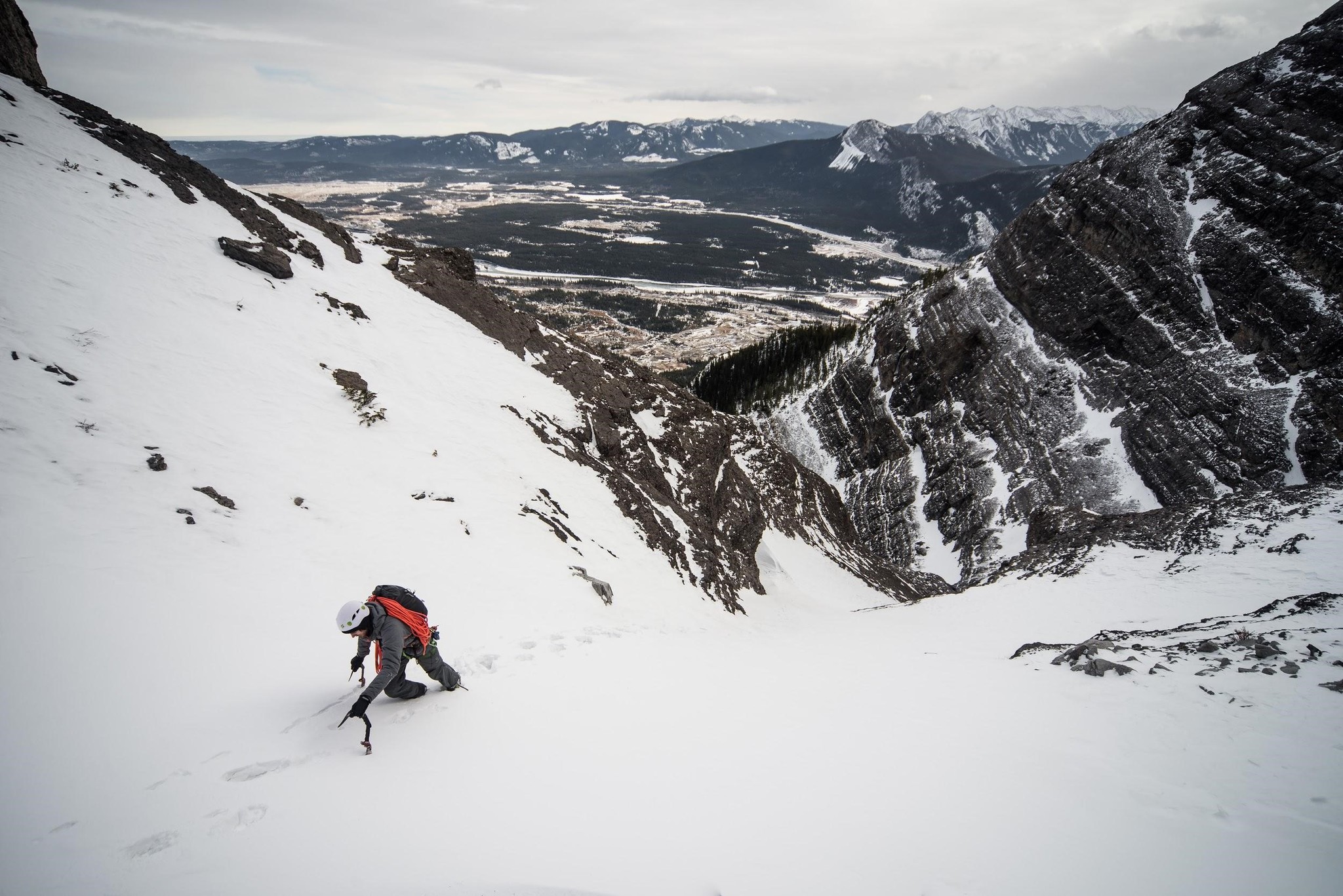 A couple hundred meters later, we saw our obvious exit through a gully to our left. Our topo described this section as a climb, however, a short stemming section that could've made its way into a guidebook of scrambles brought us onto a final scree slope to the summit ridge.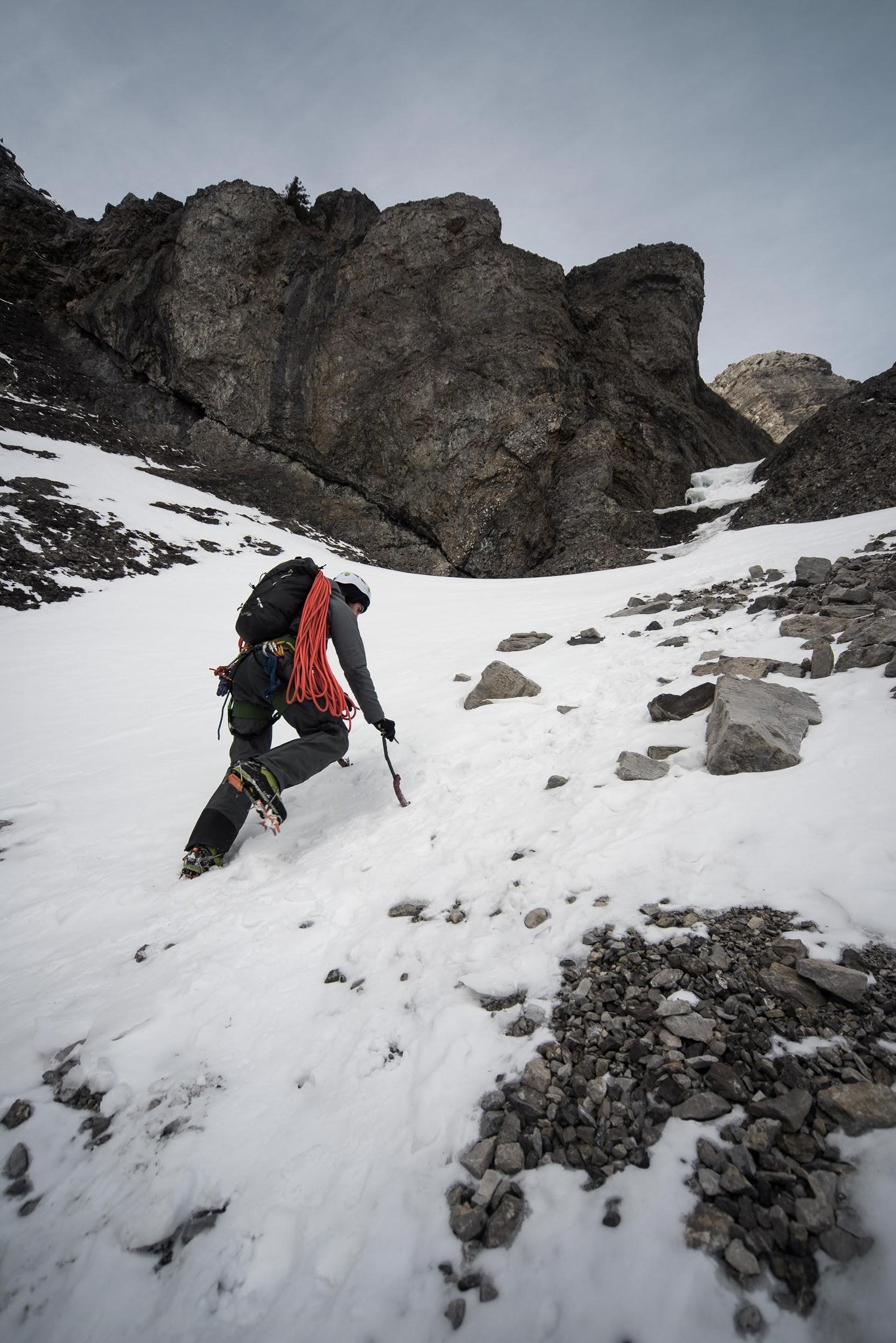 Descent 
The descent was pretty straightforward, scrambling the ridgeline to gain the summit of Loder Peak, and following the obvious hikers route down to the highway. Though the drainage gave shelter from the earlier mentioned winds, be prepared to meet them again on the ridge as it is notorious for being extremely windy most of the time (this becomes quite evident when looking at the trees missing their western branches). Leaving a second car at the bottom of the descent may seem pointless at first, but future self will thank you after the long walk off the summit.
All in all, this route makes for a great day out if you're looking to try your hand at becoming the next (less extreme) Ueli Steck, with all of its fast-paced (depending what kind of shape you're in) moving up snow and ice slopes, with a chance to swing some tools and place some rock gear along the way. As an added bonus, climb later in the week and head down the road to the Stoney Nakoda Casino for their dinner buffet to recover all those lost calories afterward.