While we aren't a guiding company, we'd love to help you make the transition to outdoor climbing as seamless as possible.  Here are a few tips from our staff at Vertical Addiction. [ Read time: 11 minutes]
Gym To Crag: What You Need To Know For Your First Day Climbing Outside
So you've been pulling on plastic all winter and you're ready to make the jump to outdoor climbing.  First and foremost, congratulations! Making the transition from gym to crag is exciting and rewarding.  It is also more involved and potentially dangerous. In order to make your transition as smooth as possible, we asked our staff at Vertical Addiction for their top tips to assist you with this process.  So what do you need to know before heading outside for the first time?
Grades are different
A comment that comes up over and over is how different the grades are outside or indoors. In the gym, route setters try to keep a consistent grading system. When going outdoors, many things can affect grades; if a route has been built in the 80's, chances are it will be harder than the grade marked in the guidebook. So when selecting a climb from the guidebook, make sure you pay as much attention to the grade than the year it has been first established. The type of rock may affect positively or negatively your perception of difficulty. In the gym, you just have to follow the colors, however, outside some route sequence can be more cryptic than others. But then again, because you don't have a specific hold to grab on to, you can choose your own best hold.
Here's an example: A 10.b from 1994 might feel as hard as a 10.c from 2009

Stuff Isn't Already Set Up For You When You Arrive
At the gym we get to show up, tie in, climb to our heart's desire, untie and go home.  Outdoors is much more gear and knowledge dependant as you're generally required to lead the route and build an anchor before lowering off.  This means that, in addition to your personal climbing accoutrements, you're going to have to bring your own rope, quickdraws and anchor building material. What's more, you'll need the knowledge to utilize the aforementioned equipment in a safe, appropriate manner.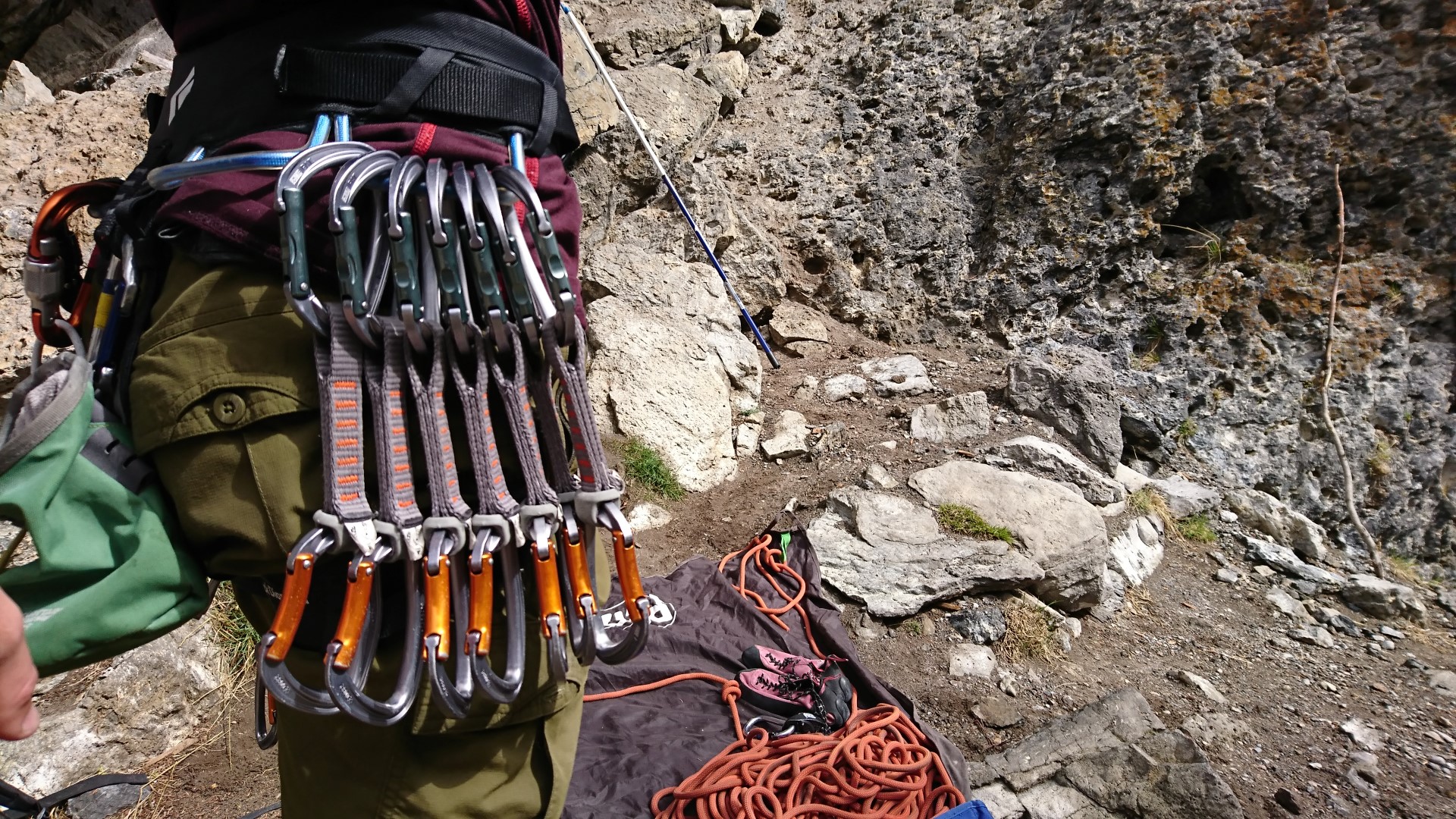 Conversely, upon the conclusion of your climbing day you'll have to safely retrieve all of your gear.  This usually means threading the anchor and rappelling or lowering off fixed hardware. It is a widely accepted practice to be lowered off ring bolts in the Bow Valley.  In many places, the hardware is set up in a manner which facilitates easy lowering off a single ring equalized with a chain between two bolts. It is frowned upon to top rope directly off fixed gear.  If you plan to top rope, please construct your own proper anchor. Be sure to inspect any hardware before trusting it implicitly.
The technicalities of the skills mentioned above are far beyond the scope of this article.  If you're uncomfortable with these procedures please seek proper instruction from a certified ACMG guide.
Things Fall From Above
How often do you look at the ceiling in a climbing gym?  If you're like most people, the answer is probably not that often.  We trust that the overhead hazard is pretty well maintained within the confines of the facility.  Outside, however, this is a different story. Wind russells pebbles which turn into missiles, animals trundle rocks, other people kick stuff.  Holds may break from applied pressure. This is particularly problematic with the porous limestone that comprises much of the Bow Valley climbing. Moisture within the rocks freezes and expands then melts, creating pressure from within.  This leads to holds breaking, especially during the spring season.
Bottom line: Wear a helmet outside.  
Make sure your helmet is rated for climbing. Bike, ski or other helmets, while better than nothing, may do little to prevent forces from being transmitted through the neck of a climber in the case of an impact from above. Climbing certified helmets will be tested to standards put forth by the UIAA (Union Internationale des Associations d'Alpinisme) and CE (European Community).  Come in and talk to us about it at Vertical Addiction. We love nerding out over this stuff.
Don't anchor yourself to the base of a single pitch climb unless you have a really good reason to. If the climber greatly outweighs the belayer, consider using a device like the Edelrid Ohm. By not anchoring the belayer to the ground it grants them mobility to move side to side and avoid falling objects, as well as provide a softer catch to a falling climber.
The Ground Isn't A Giant Cushion Anymore
Landings are almost never flat outdoors. In the gym we have the luxury of leaping without looking onto soft foam mats whereas outdoors we have uneven ground, rocks or roots. Whether bouldering, sport climbing or other, be aware that falling or jumping off the rocks can lead to pretty nasty injuries.  For this reason, it is very important to spot your climber until they have clipped the first bolt. Ensure the belay device is loaded properly and pull more than enough slack through to reach the first bolt. When the climber begins, take both hands off the rope and focus on spotting to mitigate a ground fall injury.  As soon at the climber has clipped the first piece, return your hands to the rope and resume belaying as usual.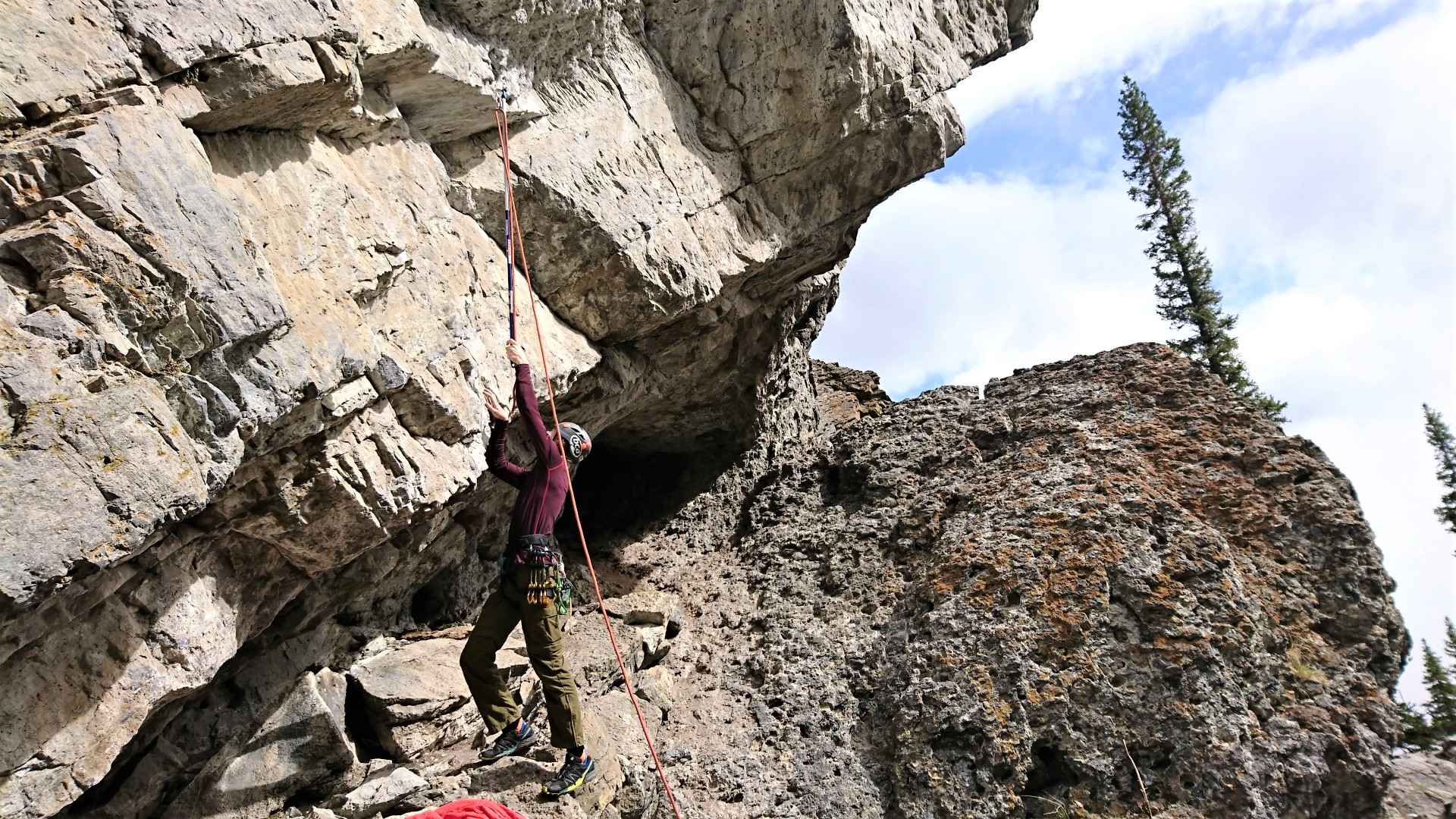 You can further mitigate this by stick clipping the first bolt. These are a cheap way to up your safety margins. They can be purchased for a couple of bucks or you can rig your own with a hiking pole and some tape.
Things Get Dirty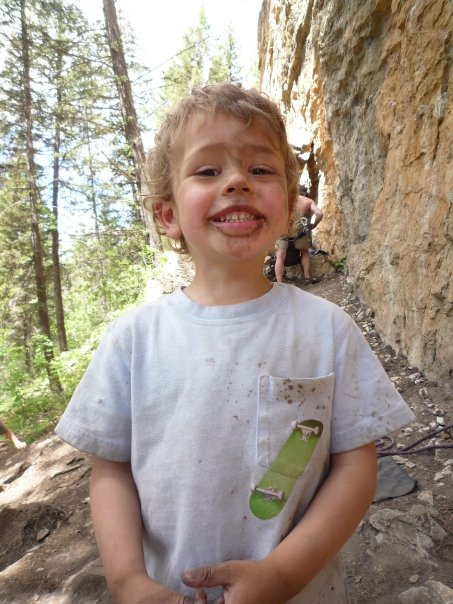 Between dirt, grit, chalk, foliage and various other debris, it is a near certainty that you and all of your personal effects will become dirty to some degree. While some may view this as a minor inconvenience, there are a number of important factors to keep in mind. First, our climbing rope is one of the only pieces within our climbing system which is non-redundant, meaning we trust it implicitly, and worthy of our utmost respect. Grime ground into a climbing rope may hamper its ability to provide a dynamic catch and it is important to keep it clean. And one of the easiest ways to prevent your rope from becoming filthy is to keep it out of the dirty by using a rope tarp. These can be as simple as a salvaged piece of blue tarpaulin or a purpose-built rope bag with an integrated fold-out tarp. These tarps have the added benefit of allowing you to match up the corners and transfer the entire rope over to a nearby climb without having to coil and re-flake.
Although it may seem unnecessary, clean your shoes before climbing! The reasons for this are twofold: First, climbing shoes depend on friction to gain purchase on the rock and outdoors we smear more frequently. Anything stuck to the bottom of your shoe provides an additional medium for slippage so give them a good wipe before starting up.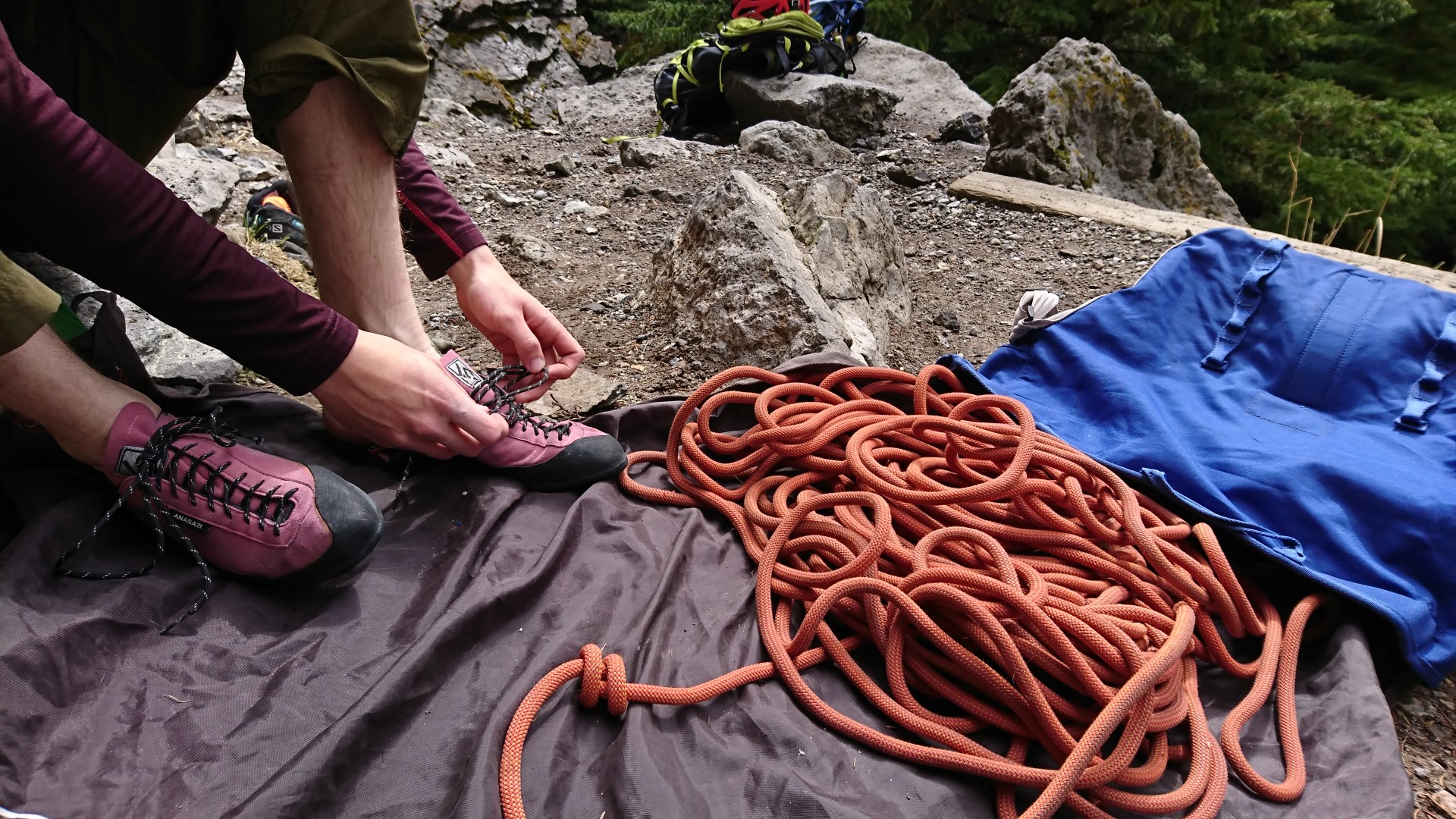 Secondly, all that dirt that would have decreased your friction has to go somewhere, and that somewhere is on the lower holds of the climb. Dirt deposited on holds makes them slippery over time, decreasing the quality of the route and this is considered poor etiquette. It also decreases the lifespan of your shoes and they're expensive. It's helpful to bring a pair of comfy sandals to change into between climbs to keep your shoes clean while belaying or relaxing and also to provide some relief to your toes after being cramped for a while. Just remember to hike in with appropriate footwear!
Weather Becomes A Factor
Venturing beyond the climate-controlled sheltered bubble of the climbing gyms means we're often faced with variable and often temperamental weather.  Conditions are often finicky, particularly in the Canadian Rockies. Make sure you come prepared for all manner of weather conditions, meaning you have gear for rain, an extra puffy, sunscreen and plenty of water. It is also imperative to consider these factors not only while climbing but on the hike in and out as well. Make sure your footwear is appropriate for the hike, particularly if you suspect you may be returning to the car on muddy trails after it has started raining.
Check the forecast and be cognizant of potential thunderstorms, heavy rain or snow or even potential avalanches depending on your location and season. Always make sure you're well prepared with gear, food, water and communication devices.  Hauling a slightly heavier pack is a small sacrifice to ensure your bases are covered. We're blessed with some of the best Search and Rescue technicians on the planet and their services are free with the purchase of a National Parks Pass.  Please reserve this resource for emergencies only and plan to be self-sufficient.
We Aren't The Only Ones Out There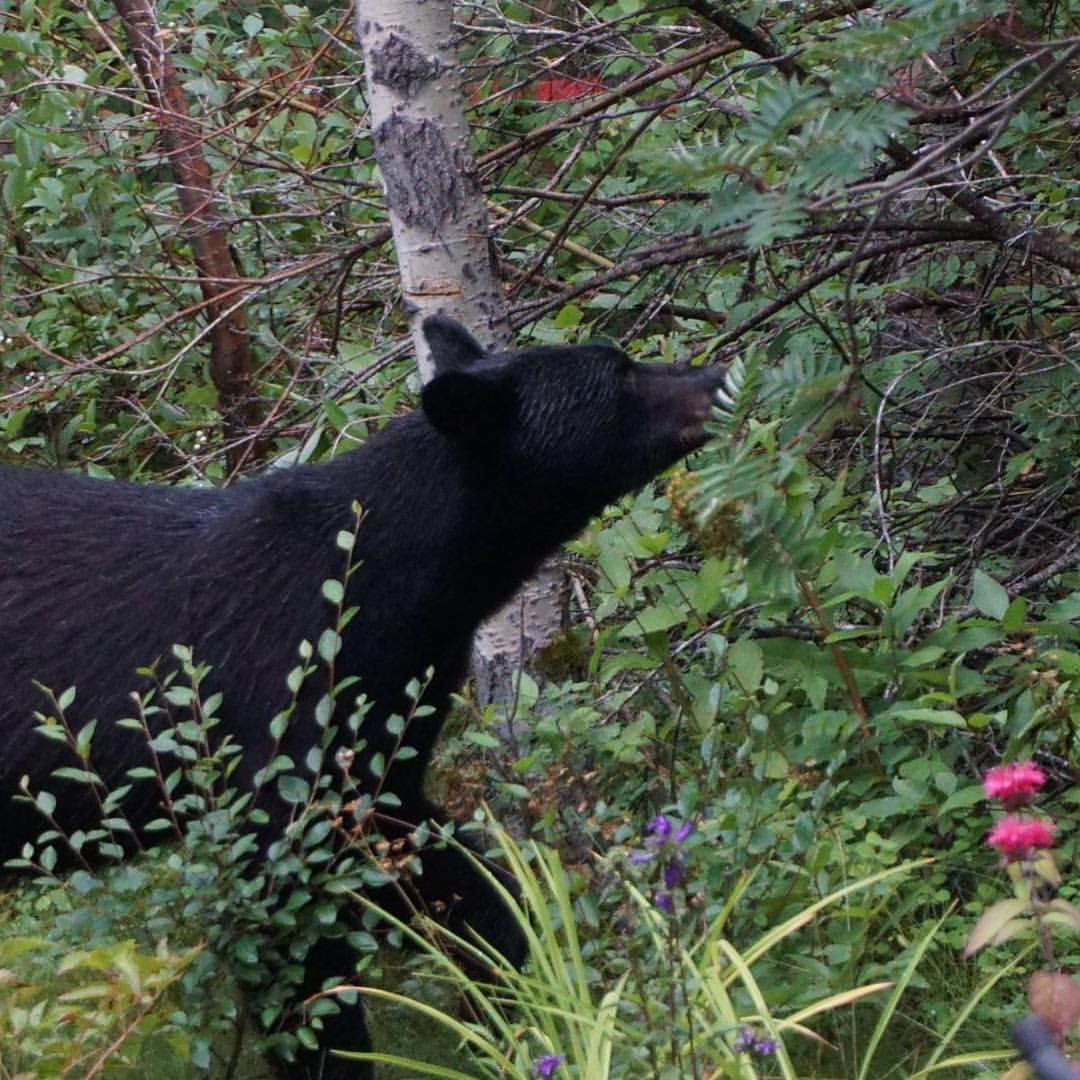 We're very fortunate to recreate in areas like the Bow Valley. For many it can be an escape from the hectic grind of city life and a chance to enjoy the pristine wilderness.  But it is important to remember that we're guests in the home of many other creatures. It is not uncommon to encounter a vast array of woodland critters, most of whom are harmless and more scare of us than we are of them.  Nevertheless, it is imperative to allow a wide berth to minimize our impact. Make yourself known on hikes by carrying on conversation with your climbing partners and/or make noise on a regular basis, particularly in close proximity to running water. Carry bear spray and know how to use it. Make sure dogs are leashed as to not harass wildlife. Respect any posted wildlife closures or travel restrictions, which occur frequently in the Bow Valley. Penalties are severe and tolerance for non-compliance is minimal.
Much of the front ranges of the Canadian Rockies are rife with ticks, which may lead to a number of health ailments if allowed to burrow into your skin.  Take a few minutes after climbing to check yourself everywhere for these nasty little critters. This is a fun way to get to know your climbing partners better.  Be sure to thoroughly check your furry friends as well!
Crag Etiquette
Many crags can become busy, particularly on weekends and it is important to share lines.  it is considered poor form to reserve lines by placing an unused top rope. If you're still using a line, please consider allowing others to use your rope for a lap or two.  If you're working a popular route, try and keep the hang-dogging to a minimum if others are hoping to climb.
Bear in mind that others may not share your taste in music so ask your neighbors if they mind.  Be mindful of your volume and profanities as many of our climbing locales are shared venues.
Lastly, one of the best parts about outdoor climbing is having the opportunity to enjoy nature.  And demonstrating environmental stewardship for the areas in which we recreate is as important as the climbing itself.
Dispose of human waste properly.
Park your vehicle in designated areas.
Stick to well established trails.
Clean up your chalk and tick marks.
Don't damage or alter the rock in anyway.
Keep group size and noise to a realistic minimum.
Pack out all trash including gum wrappers, cigarette butts, food debris, tape and whatever else. 
Fun little video on pooping responsively.
Transitioning to outdoor climbing is one of the most memorable and rewarding experiences you can have in your climbing career.  It opens the door to countless new adventures and makes previously inaccessible vantage points possible. If we can summarize all of the above pointers into a single piece of advice it is this:  Go with experienced, knowledgeable partners. When you're learning make sure you're under the watchful eye of people who know what they're doing. And if you're ever unsure of what you're doing or seek to expand your skill set in a safe, controlled environment, enlist the services of a licensed ACMG Rock Guide.  The knowledge they will impart upon you is invaluable and will certainly help prevent you from forming bad habits early in your climbing career.
A few Bow Valley Guiding Companies
While we aren't a guiding company, we'd love to help you make the transition to outdoor climbing as seamless as possible.  Send us an email or stop by the shop and we'll do whatever we can to ensure your outdoor climbing experience is the best it can be.  And if you think we missed an essential tip to help budding climbers, please let us know in the comments below. We'd love to hear from you!
Climbing is dangerous and possesses inherent risk. It is your responsibility to seek proper instruction from qualified professionals to learn the necessary skills to participate in any of the activities described herein. The information found here is for entertainment and general information purposes only and does not constitute advice, nor is it intended to be educational in any way.