Here's a guide to better help you choose the type of ski you need when going backcountry skiing. From width, construction and length, we'll try to guide you and find the ski that best suits your needs. ( Read time: 5 min)
How to choose Backcountry Skis
Over the years, skis have changed a lot. And when it comes to backcountry skis, you can now choose from a large selection with different width, rockers, and construction.
When choosing backcountry skis, you want to have a good balance between lightweight, for uphill skiing and performance for the downhill skiing. Light skis are great on the up track and allow you to move faster and retain energy for long periods of time when doing multi-day ski touring or glacier traverse. However, they tend to be deflected more than heavier skis on the descent and when facing harder snow conditions.
Ski Width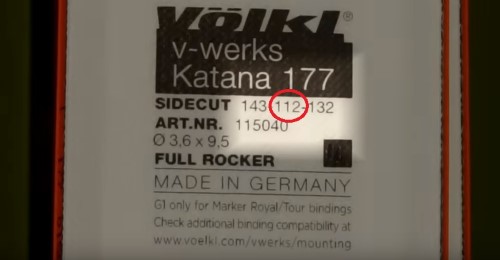 One of the first thing to decide when shopping for backcountry skis is the width that is best suited for the type of skiing you want to do.
Usually, a ski that has a width of 95 mm and under at the waist (underfoot) is considered narrow backcountry ski and is best suited for ski mountaineering and glacier traverse. The smaller the waist, the faster the transition from one edge to the other. However, the thinner you go, the more flotation you lose. So if you are considering skiing in deeper or softer snow, you may want to consider to choose a ski that is a little wider.
Mid-fat skis, between 95 mm and 110 mm width under foot, is where the majority of people seem to be going when choosing a ski for the backcountry. They provide great all-mountain versatility and with all the new construction technologies these skis show a good balance of lightness, flotation, and downhill performance. You will be able to enjoy them both inbound, at the resort and outbound, when ski touring. 
Above 110 mm, skis are considered powder-skis. With this waist width, ski flotation will increase significantly and the support you'll get in soft snow will be improved, making skiing in powder a lot easier than with a narrower ski. The downside of the wider skis is that it will be harder to ski on compact snow since the transition from one edge to the other takes more time. And because you'll need more skins to cover the width of the ski, you'll face more resistance against the snow when skinning up.
Ski Rocker Type
The profile of a ski usually determines how a ski will act in different snow conditions. A rockered ski will make turning in deep snow a lot easier while a more traditional cambered ski will be better at holding an edge on hardpack snow. There is a variety of profile combination out there but here are a few to help you better understand the differences between one another.
Early Rise Tip: Helps keep the tip afloat in powder without sacrificing the predictability of a cambered ski. This type of rocker usually comes with a camber underfoot so that when you are skiing on harder snow, you get better edge control. 
Tip and Tail rocker with Camber underfoot: Usually a playful and versatile ski. The rocker in the tip and tail gives you easy turn entry and exit while the concave shape underfoot gives more edge control. It is ideal if you are going to have only one pair of skis to do-it-all.  
Full Rocker: Best for deep snow, the fully-rockered ski has a very short contact point they will mostly smear on harder snow conditions but can still be stable, as long as you keep them on edge. The full rocker is usually used on wider skis, meant for deep powder snow.

Flat tail: This will make kick-turn and planting skis in the snow a lot easier
Ski Length
Choosing the right ski length can be a little tricky as there are a few factors to take into account when deciding which size is right for you. Shorter skis tend to make quicker and shorter turns and are easier to maneuver at a slower speed but will lose stability at higher speed. On the other end, longer skis will be a lot more stable at higher speed, but will have a bigger turn radius and will demand more work when engaging in your turn.
That being said, in order to choose the right length you have to ask the following questions: 
What is the shape of your ski?
What type of skier are you?
What kind of terrain will you be skiing?
Shape of your ski:
If you are considering an Early Rise Tip ski or one with Tip and Tail Rocker and normal camber, you would generally go with a ski length that will vary between eye and forehead level. However, if you choose a fully rockered ski you will want to get a ski that is roughly the same height as you and up to 5 cm above your head. This is because rockered skis offer a shorter contact point on the snow and by going longer, you will gain stability at higher speed and on harder snow. 
Your skier's type
When you are just starting skiing, or if you are a more cautious skier, going with a shorter ski is usually preferable. Shorter skis are quicker to respond and to easier to maneuver. But keep in mind that when going ski touring, you will most likely be carrying a backpack which will bring your center of gravity a little higher, so if you are going too short, you will feel like you're falling over the tip of your skis when going down steeper terrain.  
If you are an experienced skier who like to go fast, you'll want to go with a ski that is at least to your eye level. The longer ski length will give you more stability at fast speed and more flotation in deep snow. But keep in mind that with longer skis, kick-turns will be harder to do and it will be more difficult to negotiate turns when skiing tight trees or steep couloirs.
Still have questions? Come visit us at the store or send us an email. We can help you find the best ski for your needs.
We also have ski demos available for you to try before you buy.