For myself, this [ vanlife ] meant parting ways with a couple vehicles I had spent years getting acquainted with on my cold concrete floor. I had turned every bolt on my drift car, building it from the ground up during the long hours of the night. It was like selling a loved one. Ultimately, the money I got for it was of little value compared to the joy it would bring from the adventures to come.
Warm summer nights, driving until eyes are too heavy to go on, and finding a place under the stars to call home for the night. More often than not it's actually just the surrounding street lamps of a Walmart or some other parking lot, but what's the difference? Sure the thought of one is usually accompanied by the sounds of busy roads that never cease to sleep, and it's not the romanticized #vanlife you're used to seeing on Instagram, but the principle is the same. You are free. What happens when there is no Walmart though and the local law/bylaw enforcement are all over the van community like cats on a crazy lady? What happens when your rolling home stops rolling in the middle of nowhere, and nobody wants to work on your weird obscure Van that you decided was more hipster than a chevy express? The truth is, you will never be fully prepared for life as a cruising hobo, but hopefully through my experiences you can better ready yourself for what may have been an unexpected fiasco.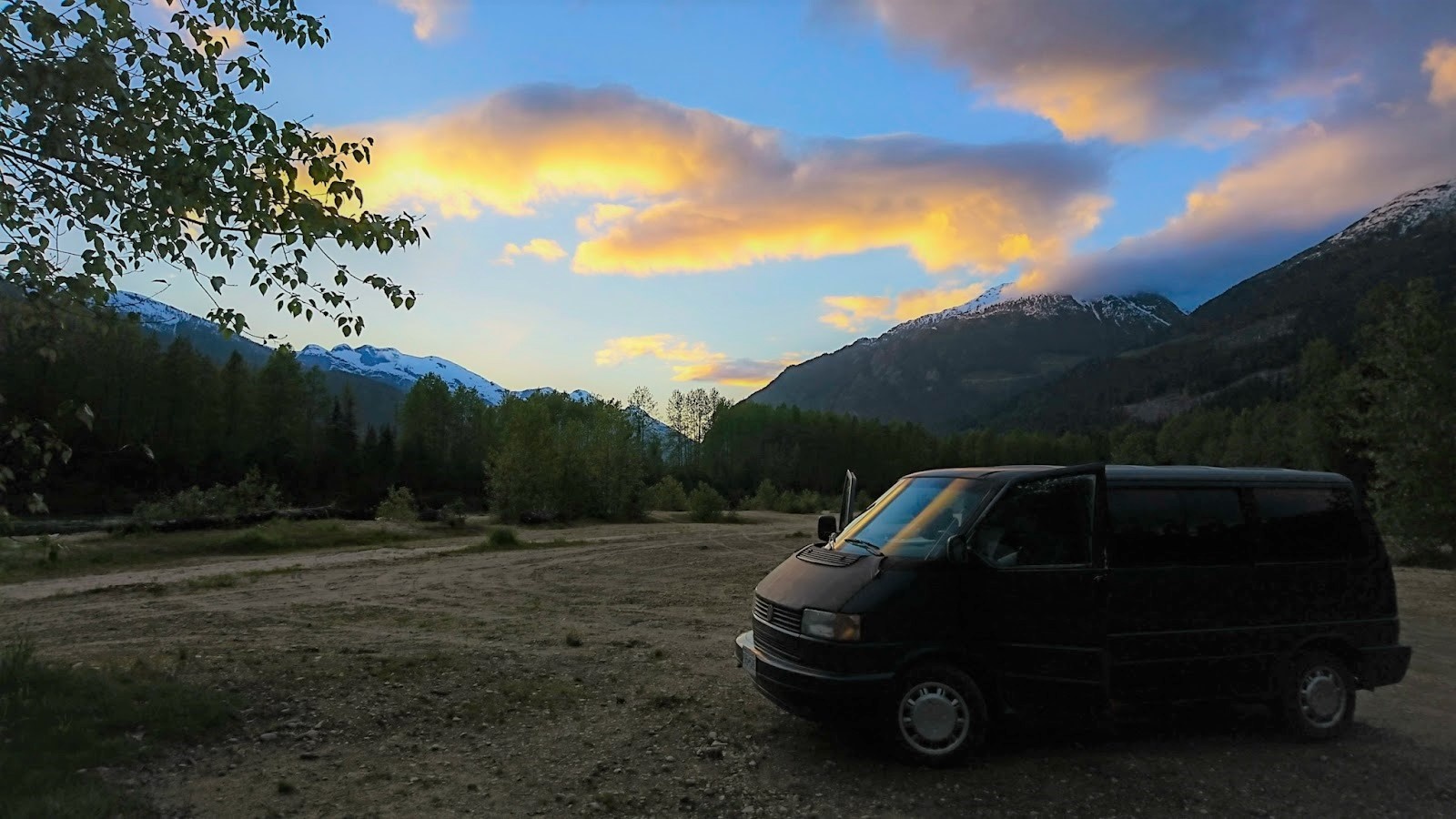 Commit
You've been twiddling thumbs, reading blogs, and "subtly" making jokes with your partner that you two should live in a van. The truth is all the joking in the world won't get you anywhere (unless you make it as a stand up on tour, I suppose). So stand tall, take charge, tell them you've made the decision to become a hobo, and commence selling all your household items. It can be daunting, but the truth is, if you keep saying it'll happen when… it likely never will. So don't wait, create a plan, and execute. For myself, this meant parting ways with a couple vehicles I had spent years getting acquainted with on my cold concrete floor. I had turned every bolt on my drift car, building it from the ground up during the long hours of the night. It was like selling a loved one. Ultimately, the money I got for it was of little value compared to the joy it would bring from the adventures to come.
Buying a vehicle
The most common one you can! I personally have been blessed/cursed with a strong mechanical aptitude and can fix just about anything. Anything I can readily get parts for that is…
After having owned a VW Jetta and realizing VW seems to overthink, under engineer, and have a tendency to do everything different as if they're being the hipsters of the auto world, I told myself I would never buy another. Despite my better judgement, I came across a cheap VW Eurovan and have regretted it ever since. Older Volkswagens are not known for their reliability, and can be a major headache when you find out VW doesn't produce parts for older models, and the local part stores can't get the ones you need for at least two weeks. Older Volkswagens are known however, for having electrical gremlins that tend to come and go at their own discretion. Not with hot or cold extremes, with certain time frames, or anything of the sort, but completely at random, leaving you stuck at the nearest McDonald's for an hour or twenty (true story). Had it been a Chevy or a Ford any part store would've had a pile of parts ready to fit a number of vehicles at half the price, any local tech would be able to tell me about any obscure problem that came up, and your average socket set would work (that's right, Volkswagens don't even use your typical socket/wrench sizes).So choose wisely.
If I had to do it again (which may be soon, since the old Eurovan gave her last breath at the end of last summer) I would buy the biggest mainstream van my budget allowed, or better yet an RV! The reality is, no van you buy is stealthy in today's day and age. With vanlife becoming such a trend you can almost guarantee someone is living in every Volkswagen, and unmarked cargo van you see, meaning you'll be about as discreet as a bag of chips opening during a horror movie. You're not fooling anyone. Which leads to my next point.
Shacking up
When evening rolls around and it's time to hit the sack, hopefully you've already scoped your parking spot under the stars (or street lamps). Many areas will have cheap or even free camping of some sorts, most often located just outside town, making for a peaceful place to hunker down for the night. If that's not the case, you can almost always find a place in town among fellow vanlifer's to sleep. You may nestle in between a couple campers at Home Depot, or a row of RV's at Walmart. If you're in a larger area, most of the time a large parking lot somewhere will be filled with fellow transients, or the elderly, traversing the country in their rental motorhomes. A few times we have rolled into the local Walmart and been turned around by "no overnight parking" signs however. Now what? As I mentioned above, no matter how stealthy you think your van may be, you have no cognito! You really have no option but to park illegally at this point. So my advice is to use common sense, be courteous, and as low key as possible. Get ready, brush your teeth, put your jammies on, and close the curtains before finding your spot for the night, so all you have to do is crawl back into your bed once you get there. Continuing your etiquette from the night before, crawl into the driver seat and peace out bright and early, giving anyone in the community no reason to cause a stink about you degenerates living on their streets. To this day, we have yet to be disturbed or asked to relocate. Use your discretion and park smart.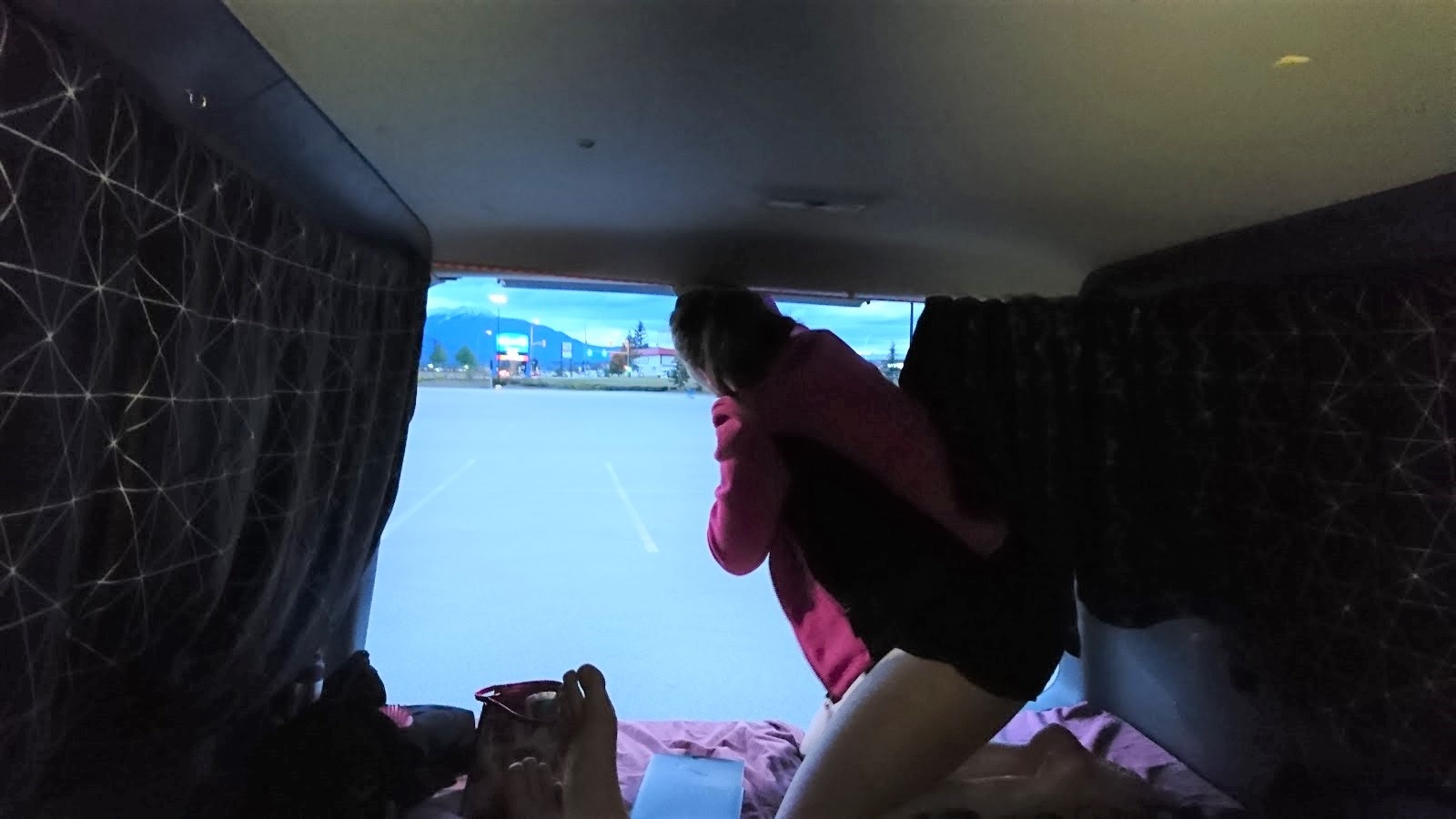 Food
Finding somewhere to dine is not such a big deal. We've always found a local park or such, with a large area for people to have picnics, which make for a great place to set up the stove and have your meals. As an added bonus, these places are usually quite nice and make for an enjoyable place to chow down.
I've been bombarded with questions concerning diet, assuming we must be starving ourselves, living off ramen and dumpster buns from behind Micky-D's. Quite honestly, the lack of running water for dishes has done wonders for my diet, as the meals have been simplified from big saucy conglomerations, down to simple wholesome foods that require minimal preparation. However, on the note of no running water, a good nonstick pot/pan combo will make your life much easier.
Coffee
If you are anything like me, coffee is life. Coffee fuels my ambitions, my creativity, even this blog (so if it starts sounding robotic, you know it's time for a coffee break). Some evenings I want a coffee so bad, I can't wait to sleep so I can wake up and start the morning brew. With that being said, I've attempted multiple methods and figured which are good, okay, and a total pain in my ass.
We started with the collapsable pour over from Sea to Summit in the name of saving space, but due to the lack of running water, we found it to be a hassle to rinse the grounds out of it without wasting water (remember this is limited). With two of us in the van, it was also rather slow to get two cups from the one pour over. This lead to the purchase of a percolator, the bain of my existence. Maybe I never perfected this contraption, but the coffee was always so dirty, you could chew it and pick the grounds out of your teeth after, or so weak you didn't know whether to take pity on it, or threaten it for it's lunch money. Again, mega pain for cleaning grounds after.
A few devices later, we threw in the towel and started buying coffee or going without, until we discovered the Aeropress! This wonderful little do-hicky will go from zero to brewed in 20 seconds flat, and cleaning is as easy as popping the puck of grounds into the garbage and giving a light wipe when you're finally caffeinated enough to pass as a normal human being again.
In my eyes there are only two choices for van coffee: an Aeropress, or zombie mode. One should not need a cup of coffee just to gain the motivation needed to brew more.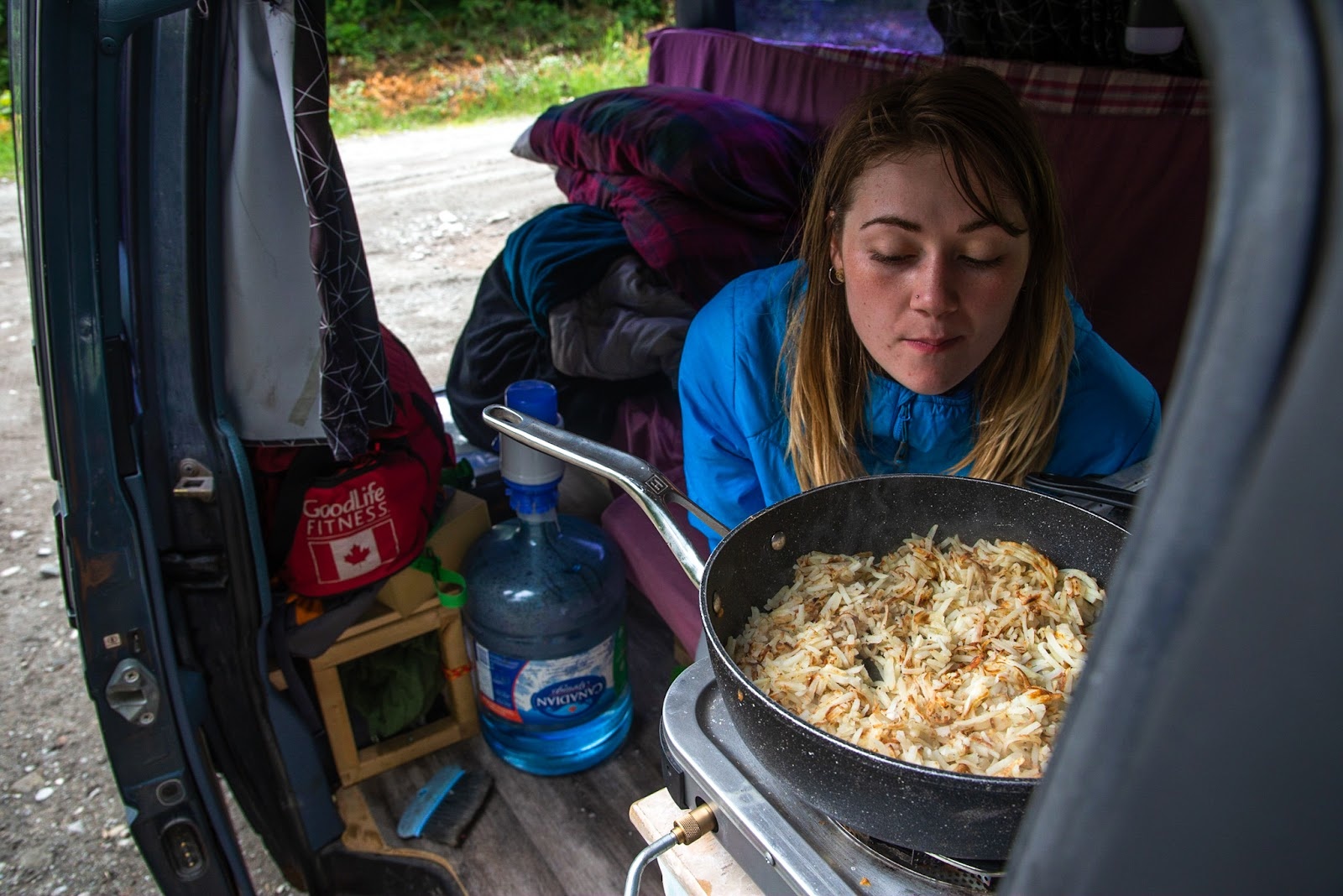 Hygiene
Don't be gross. When people think of van dwellers and tree planters, the thought is usually accompanied with ratty hair, dirty clothes, and B.O. that packs a harder punch than Mike Tyson. In the planter's defence, they're typically working the long hard days of summer in the middle of nowhere. Van dweller's, on the other hand, have no excuse for having odors offensive enough to clear a room when there are clearly so many options for staying as squeaky clean as the rest of society.
When it comes to showers, it really varies from area to area, ranging from two bucks at the YMCA to six dollars at a local campsite. Depending on the days activities, you'll find you may not need a shower every day, but if these options are still too saucy for your dwindling bank account, do everyone within a five-hundred metre radius a favour and grab some eco friendly soap and have an ice bath in one of the surrounding rivers/lakes. On the other hand, if you're having a rest day and want to splurge, hit the local swimming pool for a soak, swim, or steam room session and take advantage of their facilities.
When it comes to laundry, it can get quite expensive. For the two of us it can be up to twelve bucks for a laundry day. A cheaper option has been the Scrubba Wash bag. It's essentially a dry bag with a patch of rubber fingers on the inside for hand washing. It works fantastic! Its biggest downfall is its capacity being limited to about a two-three shirts and a pair of pants, followed by hang drying, which in a van, can take a long time and is limited in space as well. So doing laundry often is key, but in the end can save you some extra coin and keep you from looking like the hobo you are.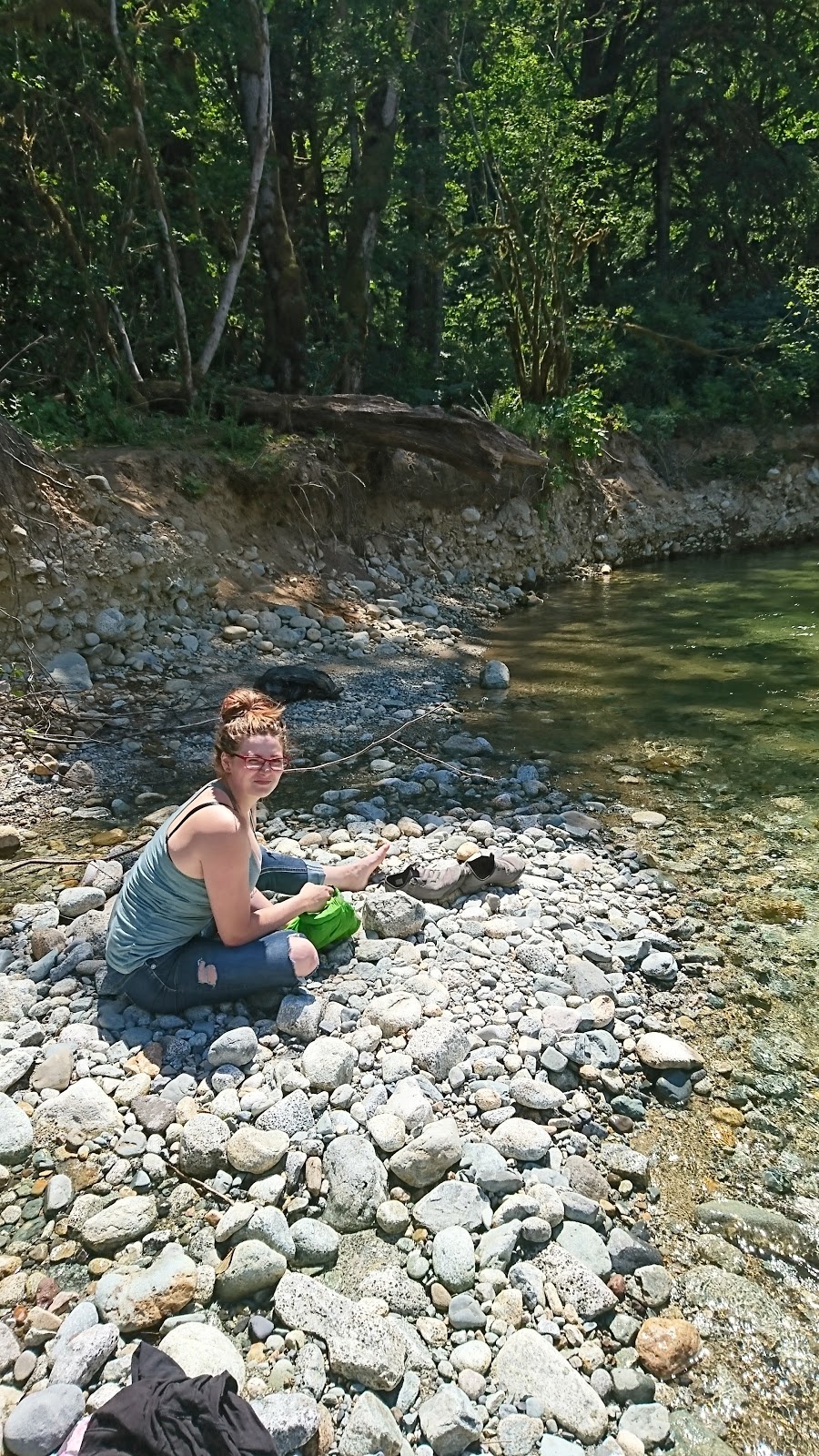 These are just a few of the basics of living the life on the road. Sure I could include how to make bank, ball on a budget, or what to do during a relationship crisis when your living space is the size of the shared mattress (awkward… and no, walking out is a definite no no!), but this post would take ages to read, so perhaps another time. Hopefully this will help for those who are just starting out in their new life of adventure, or encourage others to take the leap, as doing so is not as bad as it can seem at first.