Does this crazy looking J-shaped piece of carbon live up to its hype? Or is it just too specialist for mere mortals who can't crush M14 and win gold in comps? Kevin tested the Ice Rock Aspeed ice tools for us and here's his take on it.
Estimated reading time: 9 minutes.
I'm a big believer in having the right tool for the job, and if the job is hard drytooling and mixed, the Ice Rock Aspeed is the right tool. Hailing from Kirov in Russia, Ice Rock is a brand dedicated to making top quality gear for the winter climbers. The Aspeed was designed with input from the top ice climbers on UIAA World Tour. What they created was a highly technical tool capable of climbing the most demanding routes on the planet and crushing at competitions, all while being the lightest tools in their category at a scant 485 grams per tool.
What sets this tool apart from other competition tools is its versatility, the Aspeed is supposed to be able to climb ice and mixed. So, does this crazy looking J-shaped piece of carbon live up to its hype? Or is it just too specialist for mere mortals who can't crush M14 and win gold in comps?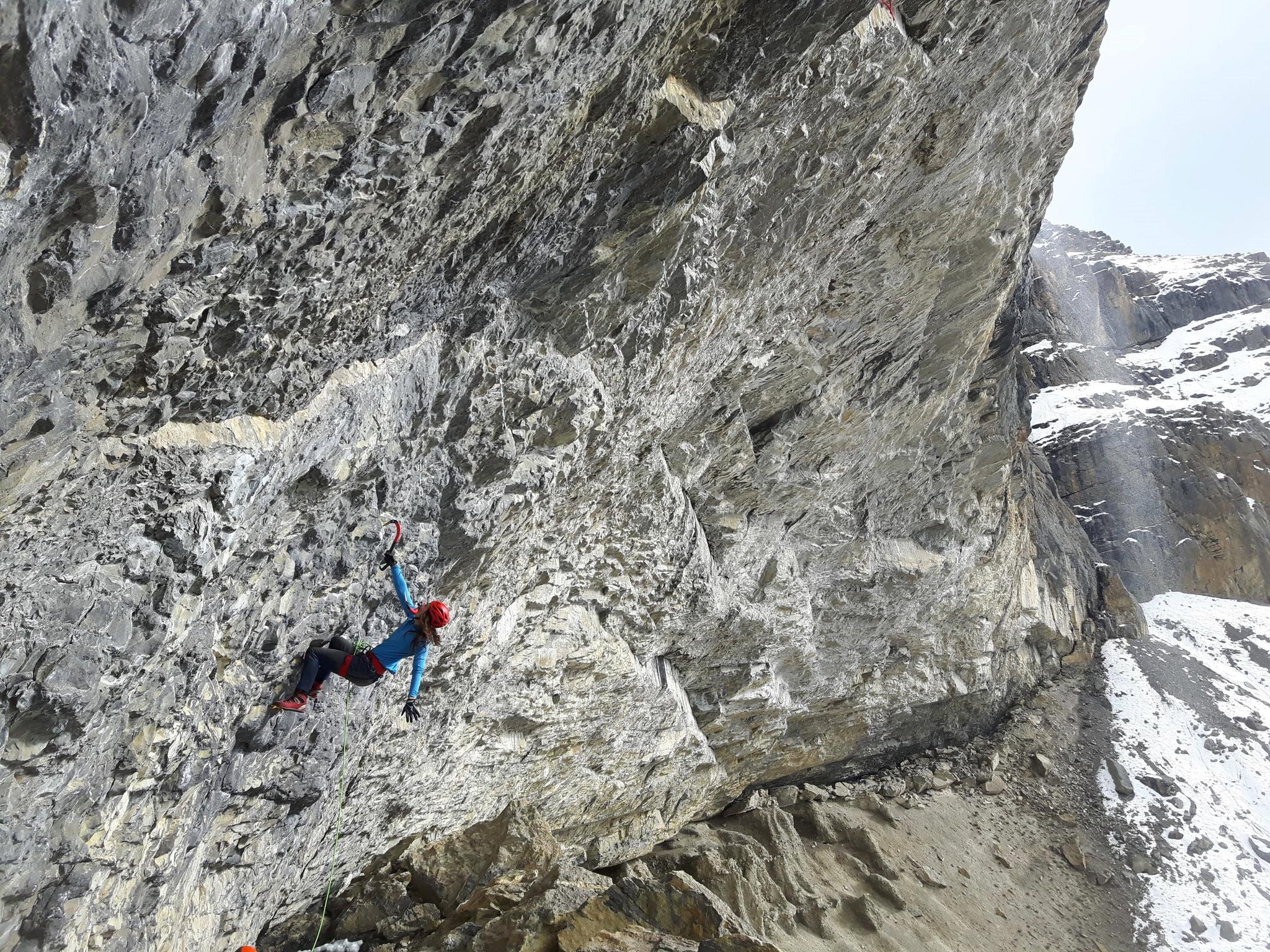 When I first saw the Aspeed in videos of the Ice climbing World Tour, it seemed like a specialist tool that I would never have any use for. However as my climbing progressed I found myself wanting a pair. Earlier this summer, I finally had the opportunity to demo a set. I held on to those tools for over two months and during that time, I had become so accustomed to the lightness and stability of the Aspeed that when I gave them back, I knew I had to have a set.
Since I first climbed on the Aspeeds, I have had the opportunity to test this tool on everything from scratchy D6 slabs to massive pumpy D11 roofs. The secret to the Aspeed's performance is in their strange-looking geometry. As opposed to a longer curve in the middle of the shaft, like a traditional ice tool, the Aspeed has a very sharp aggressive curve right at the top of the shaft. This gives the Aspeed more stability when matching on the upper grip, it also allows the tool to have longer reach without lengthening the shaft.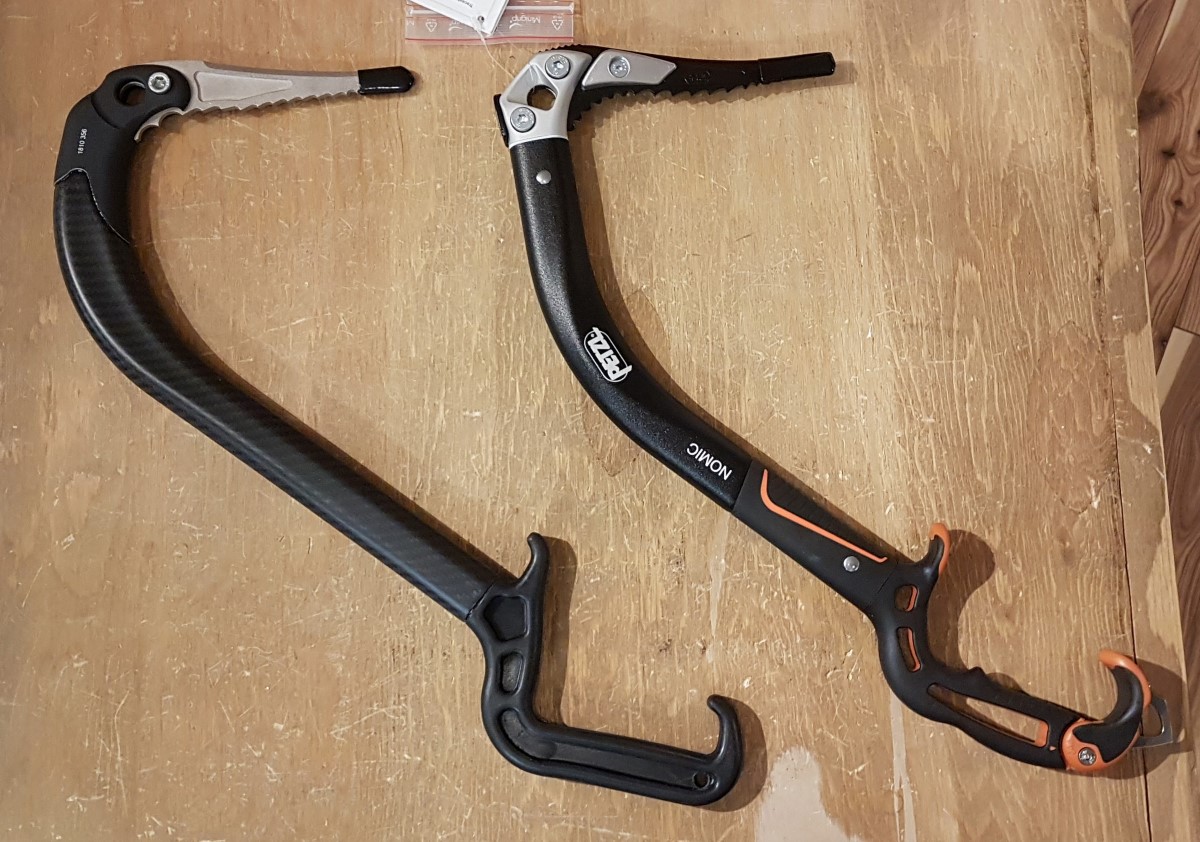 The other part of the Aspeed's design that makes it so good is the carbon fiber shaft. Carbon is lighter than aluminum and much stiffer, this results in superior power transmission and stability, all while coming in at a low weight. The shaft is also widened at the apex of the curve for extra strength and stiffness. The handle of the Aspeed is simple but effective, the lower handle is a simple rectangular profile with a pronounced lower pommel. It is a nice thin grip with a great rubber coating, but you could tape the lower handle if you would like a fatter grip. The lower grip is also heavily offset from the shaft, this creates a larger distance between the lower and upper grip, which gives you a few extra inches for long moves.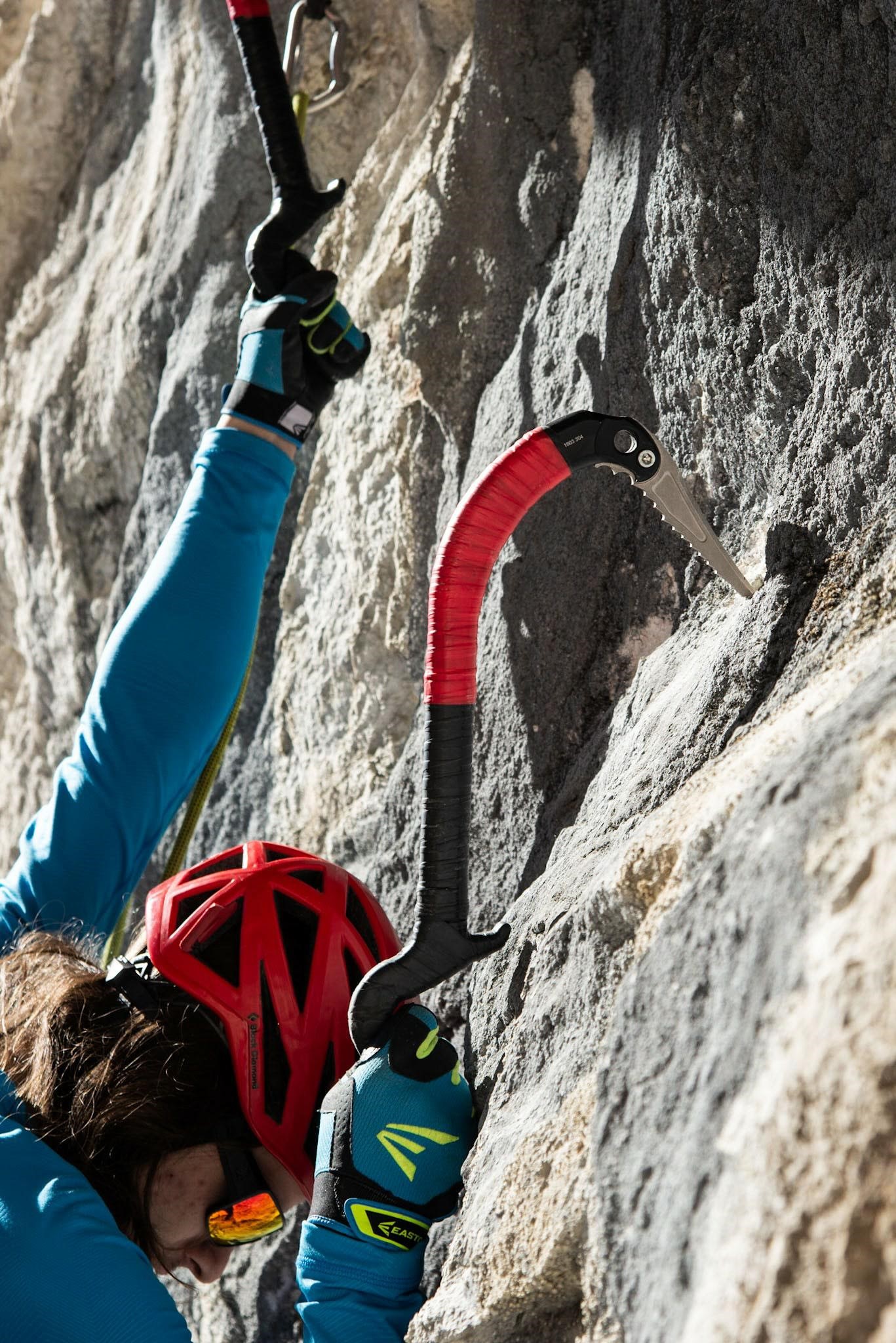 The upper grip has a similar pommel as the lower grip. The picks are a super strong alloy; after months of drytooling, I haven't managed to damage or even dull the picks. The picks are attached to the strong aluminum alloy head by a single bolt. Ice Rock makes an ice pick, a dry pick, and a comp pick, I tested both the ice and the comp picks.  These elements resulted in a tool that excelled at most things I threw at them, but there are some aspects of this tool that means it isn't perfect for everybody, I'll get to that later.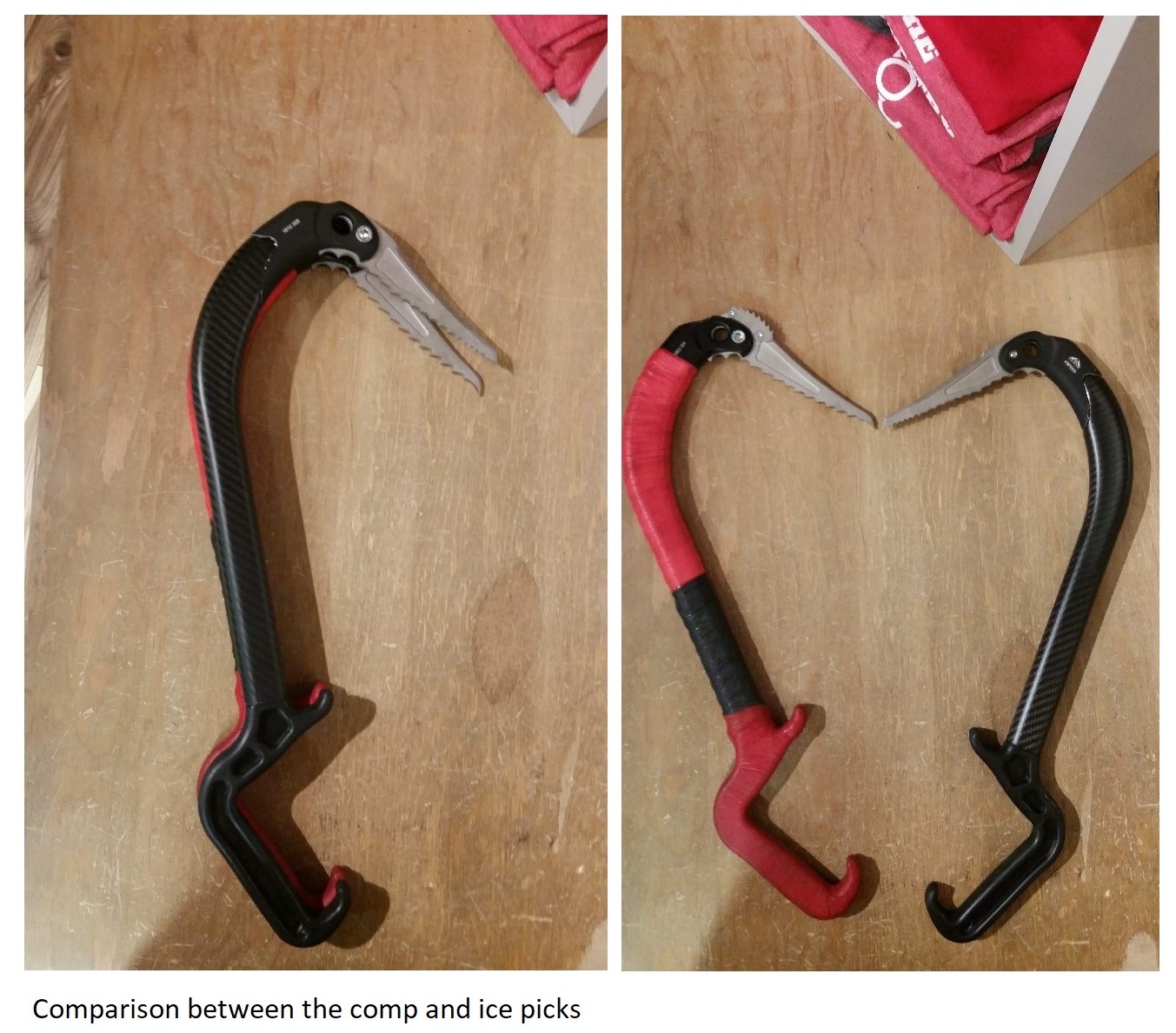 The first thing you notice when you pick up these tools is the astonishing lack of weight. In fact, I was skeptical that the Über-light tools would be able to stand up to abusive drytooling and mixed climbing. Ice Rock's claim of 485 grams isn't bogus either, in fact, our pair at the shop with the ice pick weighs a mere 475 grams. My first day with the tools was spent at the Canmore Bouldering Cave. I figured this would be a good spot to test the tools on a variety of moves and holds. The first thing I did was put the tool into a stein pull and hang off it, even as I hung and bounced on the tool, the shaft didn't even flex a bit, in fact, the hold I was on broke before the tool flexed! I set a route that had a series of outrageous moves off small holds to put the tools through their paces. I noticed immediately that the Aspeed made these moves feel easier than my other tools. The handle fit my medium sized hand well with golf gloves, and I still had space for larger gloves. After several hours of hard training, I was quite satisfied with the Aspeed's performance, but I was looking forward to testing them on some real rock.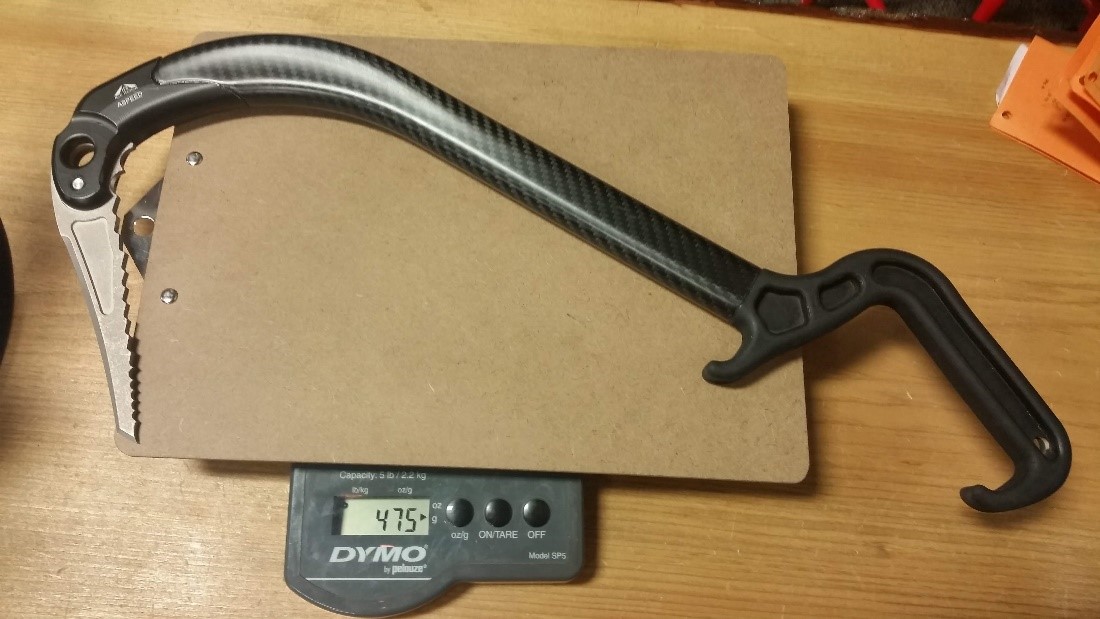 A few weeks later, I was able to take the Aspeeds up to the playground for some drytooling, this was my first real test of their rock-climbing ability. The tools excelled on every route I tried; on the smaller holds they gave me the confidence to pull hard, and in the cave, the aggressive angle made it easy to hang on and pull up. The tool's stiffness was greatly appreciated for some of the routes with stein pulls and torques. They felt great at the playground, but I wanted to see what these tools could do on some truly savage routes
On harder climbs, this tool really started to rise above the rest. On the endless roof of Alcatraz, the tools were comfortable to hang on and felt confidence inspiring when throwing figure 4's on small holds. When I tried them on the slightly less steep routes, at The Temple of Silence, I was amazed by the tools stability when locking off. The Aspeeds didn't shift on even the highest lock off's, and the large vertical offset between the lower and upper grips made huge moves a little easier. Big moves are a place this tool stood out from the crowd, its geometry made it easier to make massive pulls than any of the other tools I tried. After my time at the harder crags, I really started to hold the Aspeed as the standard of which I would measure tools against.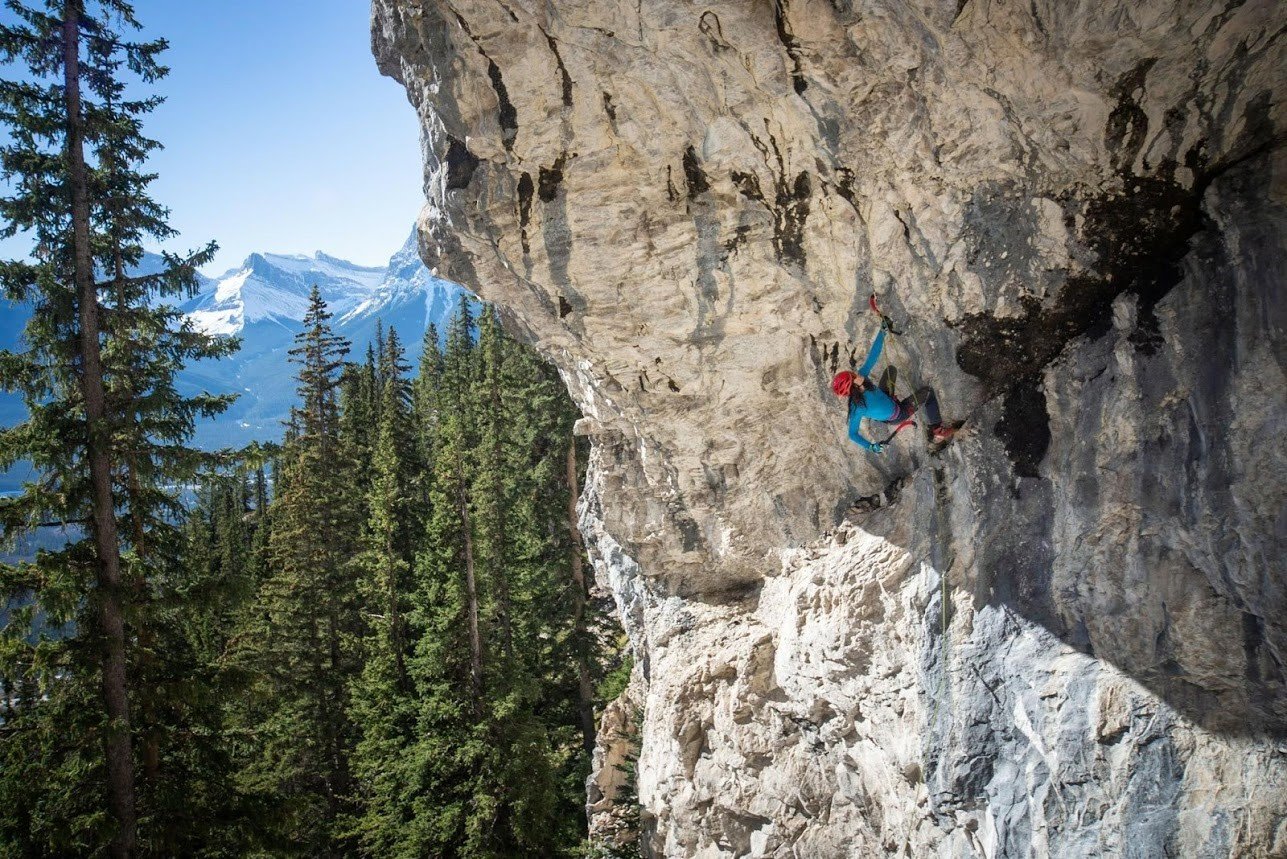 A few weeks later I was going for a small session at the Drive-In, however, I had forgotten my trusty Black Diamond Fuels at home and only had the Aspeeds. I figured this would be a good opportunity to test them on the moderate slabby terrain at the Drive-In. However, halfway up my first lap, I had discovered the Aspeed's weakness: easy climbing. On the lower angle walls, they felt a little less secure than a more laid-back tool. When I got on a couple of the vertical routes they started to feel a bit more secure, but they still felt overkill. That being said, this is a tool that is designed for cutting edge routes, not D6's.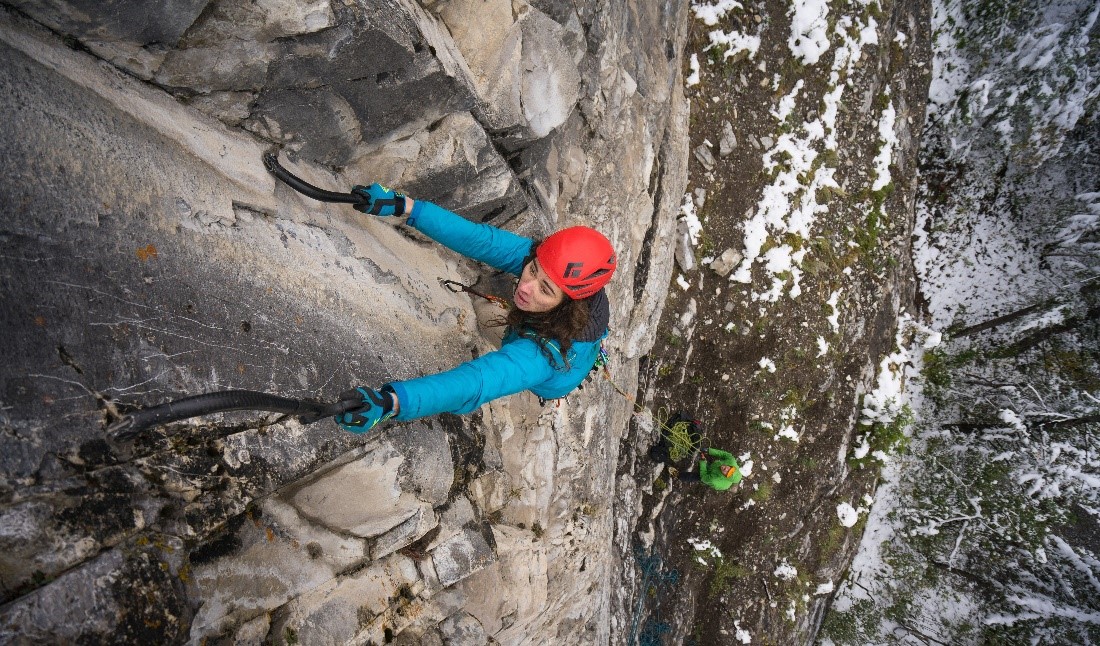 I haven't had the chance to try the Aspeeds on ice yet, however, I have some hope for them. Ice Rock does produce an ice-specific pick for this tool with a different profile and a thinner tip than the other picks. I've talked to some folks who have had the opportunity to use this tool on a lot of pure ice. The consensus from them seems to be that this tool can climb vertical ice with surprising ease. Most tools with this geometry suffer from very poor ice performance. This will be a great asset on hanging daggers and curtains on mixed climbs. Users also raved about the Aspeed's hooking ability on heavily featured ice. However, if you are looking for a tool for lots of pure ice, you might want to take a look at a tool with more weight and a more laid-back profile; on fresh hard ice, the Aspeed's lack of weight and aggressive angle will require you to work harder to get good sticks.
I was also able to compare the Aspeed to a couple other aggressive mixed weapons: the new Petzl Ergonomic. I was lucky enough to demo a pair of Ergonomics at the same time as the Aspeeds. On easier terrain I found both tools to equally overkill, they both felt a little aggressive for low angle stuff. On harder climbs, both tools came into their own.
The effective pick angle of each is very similar so, on overhanging terrain they both feel great for hanging. However, on really steep climbs and small holds the Aspeed's competition geometry, low weight, and rigidity gave it the edge over the Ergonomic. The Ergonomic's strength lies in its versatility, it has the same head angle and shaft as the time-tested Nomic, but with a large comp style handle that results in a steeper overall angle, and larger vertical offset from the shaft, this results in the ergonomic having great steep ice performance as well as solid mixed ability.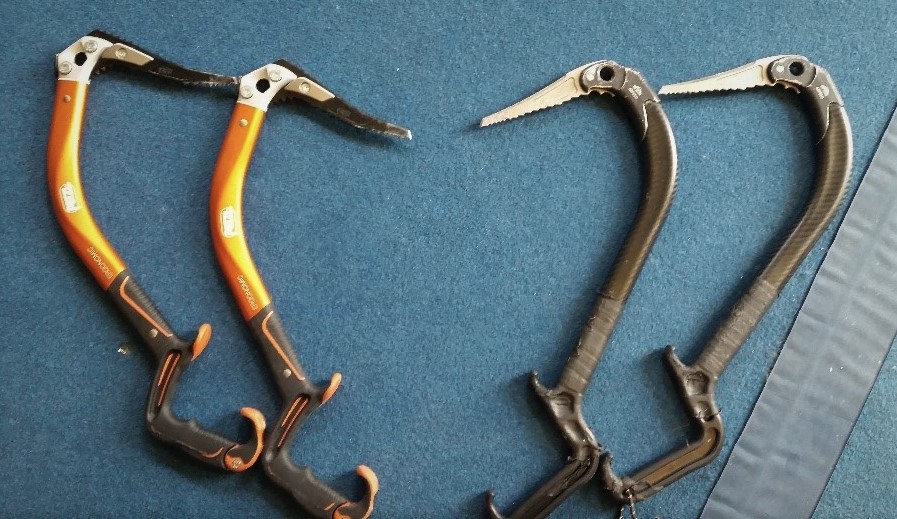 Has Ice Rock crafted the perfect tool for hard mixed? I think they might have just pulled it off. The Aspeed is unapologetically specialist. All comp tools are, but this one is special because it has something to offer to folks who want to climb hard on plastic, rock, ice, and mixed; not just drytooling. However, this tool is not for everyone; it is not a quiver of one tool. If you want a tool for everything, or primarily ice and less heinous mixed routes, tools like the Petzl Nomic or the Cassin X-Dream would be a better choice. But, if you want a tool that can keep up with you in the realm of hard winter climbing, this tool is one of the best options around.
So now the golden question: Is the Aspeed the right tool for you?
Well, do you like hanging upside down in rat crap filled caves? Do you own fruit boots that aren't rollerblades? Do you find yourself on ice that has more mushrooms than a summer music festival? If you answered yes to these questions then you should really consider the Ice Rock Aspeed as your next ice tool!
Specs: 
- Weight: 485 g;
- Size: 50 cm;
- Shaft type: 2;
- Pick type: 2;
- Certified EN-13089 and UIAA-152.
If you are interested by the Aspeed, you can stop by the store to take a look at them. Unfortunately, they are not available for sale online at the moment.