Canmore is a climbing mecca.  Our quaint mountain town boasts a seemingly endless quantity of high-quality climbing in a vast assortment of disciplines and one of the best climbing communities anywhere.  The Canmore climbing scene is not one to be missed but the sheer quantity of options can appear daunting.  As such, we've compiled a list of what we believe to be a sampling of the best Canmore and the Bow Valley has to offer.  Here's our picks for what you can't miss if you want to have the authentic Canmore climbing experience.
The Vertical Addiction Guide To Canmore Climbing
The Canmore climbing scene offers a little of everything. But while you can sample bouldering, crack climbing, aid and even big wall routes, the main draws are sport, alpine and adventure climbing. 
Sport Climbing
The region has become synonymous with the Canadian sport climbing scene and is home to one of the highest concentrations of hard routes in the world including Fight Club (5.15b), the first 5.15 in the country. High-quality rock, easy access, and a supportive community have made the Bow Valley a must-visit for sport climbers.  Depending on the crag, there is something for everyone, beginners, and professionals alike. While there are literally thousands of high-quality options, our staff have listed a few of their favorite, must-do sport climbing routes at some of the best crags around.
Acephale – Hard Sport Climbing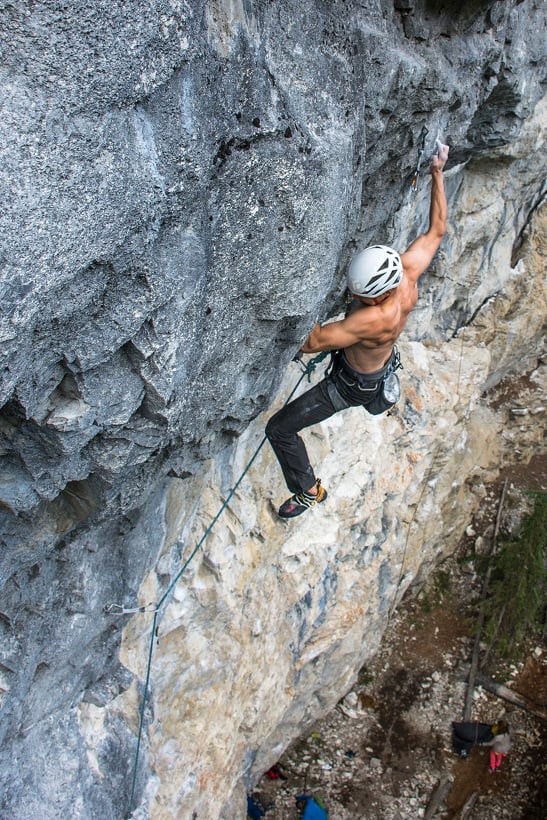 If you're looking for a hard crag to strut your stuff, Acelphale features a collection of some of the most difficult routes in Canada. Perfect blue-streaked limestone is steep, well featured and very reminiscent of Ceuse.  If you're climbing at the grade you absolutely must check it out but come ready to pull hard as the easiest route is a 5.10c (Keys In The Car)!
Must-Do Routes
Hypochondriac 5.12c
The 39 Steps 5.12d
Sweet Thing 5.13c
Endless Summer 5.14a
Grassi Lakes – Something For Everyone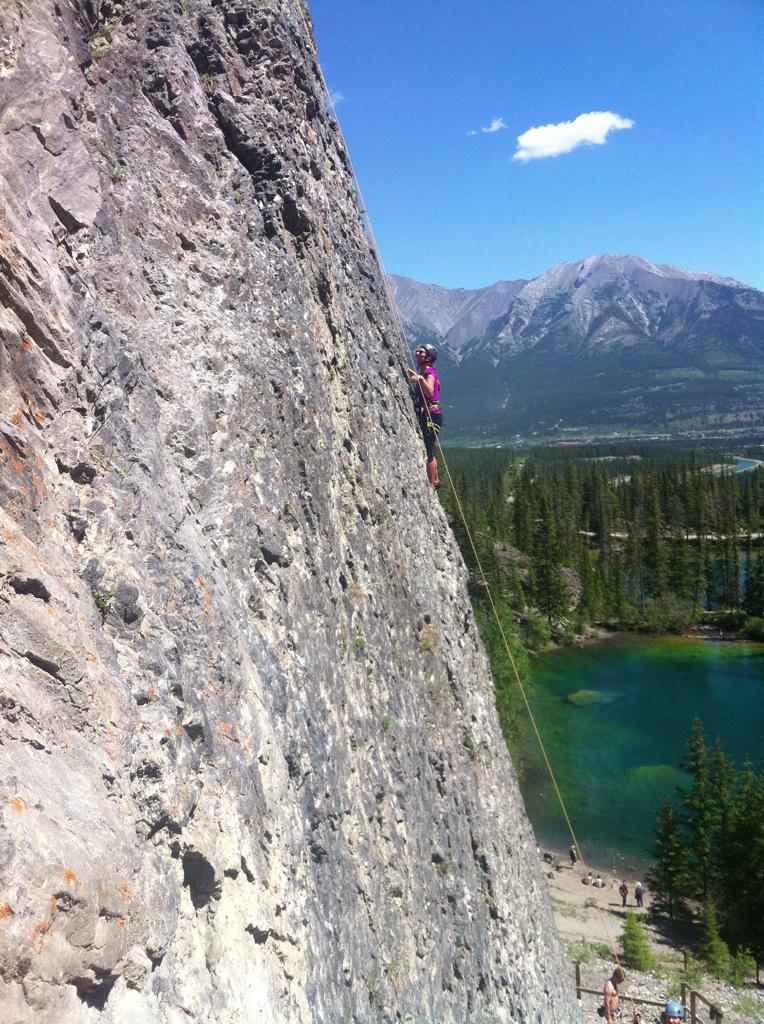 The unique pocketed limestone of Grassi Lakes provides options for families to top-rope and crushers to pull overhangs.  With one of the shortest approaches around, this can easily be done as an after-work outing or a whole day affair. The scenery overlooking the Grassi Lakes is spectacular.
Must-Do Routes
The Golf Course (5.4-5.6)
Gardener's Wall (5.9-5.9)
Memphis 5.10d
Meathooks, 5.11a
A Bold New Plan 5.11a
Dance Me Outside, 5.12
Cougar Canyon – Close To Canmore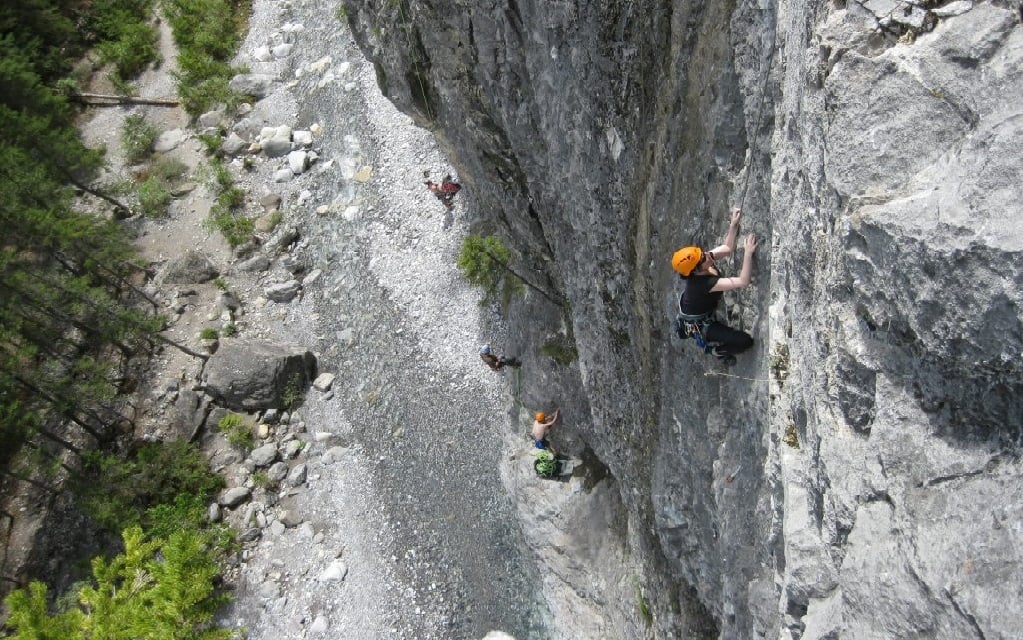 The most developed and deservedly popular climbing venue in the Canmore area, Cougar Canyon offers something for everyone with eighteen different cliffs and climbs ranging from 5.5 to 5.14.
Must-Do Routes
Milk Run 5.7
Shadow Of Turning 5.9
Gaia 5.9
Full House 5.10b
Talamasca 5.10c
Critical Mass 5.10c
Prime Cut 5.10d
Spite 5.11a
Incantation 5.11c
Outer Limit 5.12a
Shooting Star 5.12d
Sunshine Rock – Shortest Approach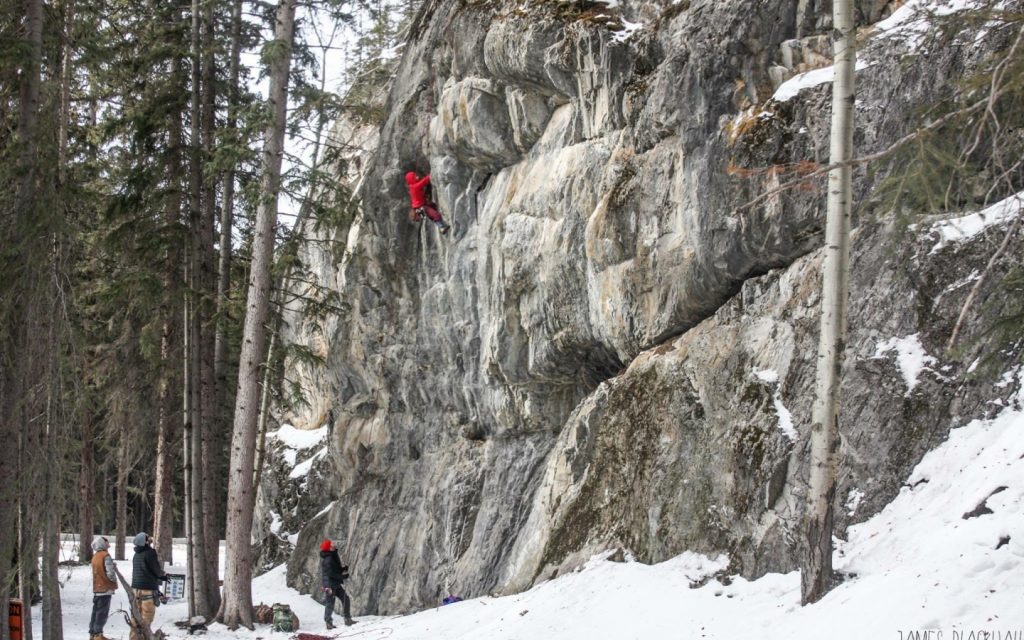 By far the shortest approach, at less than one minute.  This popular crag is off the road to the Sunshine Village Ski Area and the only thing better than the rock quality is the perfect belay stances.  A few minutes up the road you can find a number of high-quality multipitch sport routes as well.
Must-Do Routes
Enchanted Forest 5.7
Sunspot 5.8
You Are My Sunshine 5.9
Solar Flare 5.10a
Mountain Aven 5.11a
Thunder From Downunder 5.11c
La Muerta 5.11d
Echo Canyon –  Sport Climbing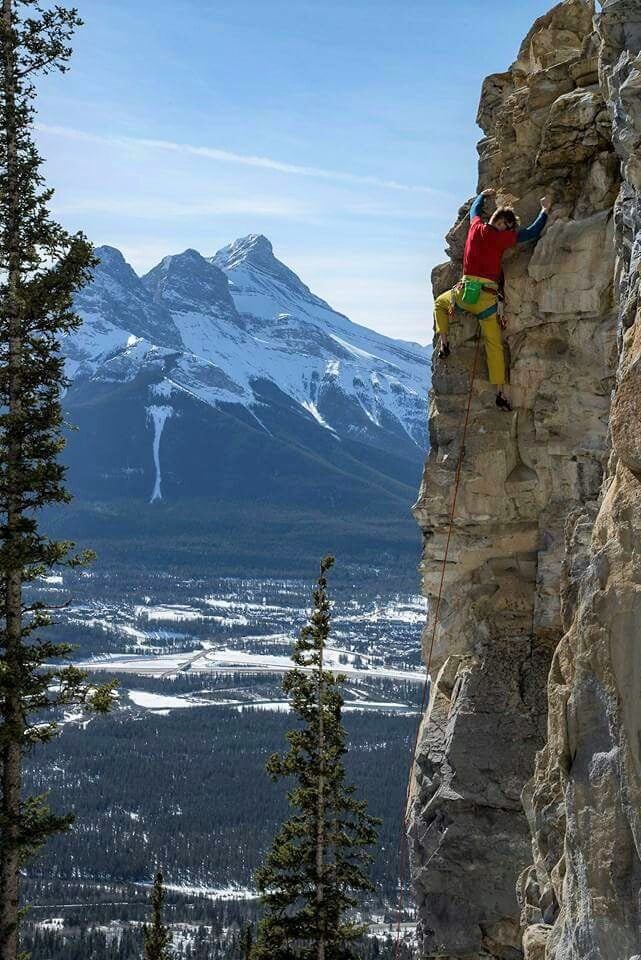 The future of Canmore sports climbing lies in Echo Canyon.  If you brave the uphill hike you'll be rewarded with immaculate stone, steep walls and some of the best routes around.  The potential of Echo Canyon has only begun to be realized and development is ongoing. 
Must-Do Routes
Sheep Metal 5.8
Caramel Macchiato 5.10a
Venturi 5.11a
Phantom Ledges 5.11
Bench With A View 5.11c
Tetris 5.12a
Diamond 5.12b
My Two Bits 5.12b
Spring Fever 5.12c
Lost and Found 5.12c
Destination Unknown 5.12d
Toxicity 5.12d
Stepping Stone 5.13b
Younger Than Yesterday 5.13d
Honorable Mentions
Baatan
Another challenging crag worthy of the steep approach, Baatan gets lots of sun, dries quickly and features incredible views of the Bow Valley.  We suggest trying Only The Lonely (5.10a), Pushing Forty (5.11b), Significant Digits (5.11b) and Eyes Wide Shut (5.12a)
Barrier
Short approach and close to Calgary.  Barrier gets a lot of sun and dries very quickly making it an option almost every month of the year. There is a mix of grades from 5.7-5.11 and you should definitely check out Front Row Center (5.7), Serial Driller (5.9), Sisyphus Goes To Hollywood (5.11c) and Sensoria (5.12a).
Kid Goat
There are a ton of great options here from single pitch sport to multipitch trad. Getting morning sun and afternoon shade this is an excellent option for hot days or a quick burn in the evening. Popular multi's include Gray Waves (5.8), Keelhaul Wall (5.7) and Twilight Zone (5.7, more information below). The entire right-side sector of Kid Goat has fun sport routes from 5.9 to 5.11a.
Silver City
A longer approach but great rock quality with a nice mix of single pitch sport and trad.  The approach deters a lot of people but it is similar to Lake Louise quartzite without the crowds.  Must -Do routes include Dead But Not Gone (5.10a), Seandream (5.10c), Ruded (5.10d), Low Rent Rendez-vous (5.10d) and I Oink Therefore I am (5.11a).
Wasootch Slabs 
A beginner and family friendly venue with a very short, flat approach and easy climbing grades. As an added benefit, this is one of the best areas to walk-up for top rope setups capable of handling multiple lines of low-grade climbing, making it a favorite for families.  The cliffs are organized by letters and you will find an easy walk up toprope area with multiple lines of 5.4-5.6 on the D-Slab.  There are also a number of easy trad climbs for aspiring leaders.
Lake Louise – Perfect Quartzite With An Iconic Backdrop
Lake Louise is one of the most photographed places on the planet and the rock climbing is world class.  You can sample everything from single pitch trad cragging to hard sport to short multipitches. A number of areas are bolted at an easy grade so the whole family can try but everything requires a lead climb first.  

Must-Do Sport Climbs

Imaginary Face, 5.9

Public Enemy, 5.10a

Turtle Island, 5.10b

The Search 5.10b

Wicked Gravity, 5.11a

Mardi Gras, 5.11a

Mr Rodgers Smokes A Fat One 5.11b

Monkey Lust 5.11b

Back In The Saddle 5.11b

Dew Line,

5.11c

Mistaya 5.12b

 

 

Must-Do Trad Climbs

Corner Voyage 5.6

Reclining Pine, 5.9

Long Stemmed Rose, 5.10a

Ash Wednesday 5.10b

Violet Hour, 5.10b

Standing Ovation, 5.10b

Crimson Sky, 5.10c

I Hear My Train A-Comin', 5.10c

Air Voyage, 5.10c

Monkey Lust

Scared Peaches 5.12a

 

 
If you're looking for inspiration you can watch Sonnie Trotter's quest to free The Path (5.14R) on trad gear at Back-Of-The-Lake.
Bow Valley Multipitch Classics
You can find world-class trad climbs of any grade, most with a distinctive alpine flair. The rock can range from bomber quartzite to solid, streaked dolomite to crumbly limestone. There are entire guidebooks written for individual faces and the options are far too numerous to list but a few of our favorites are listed below.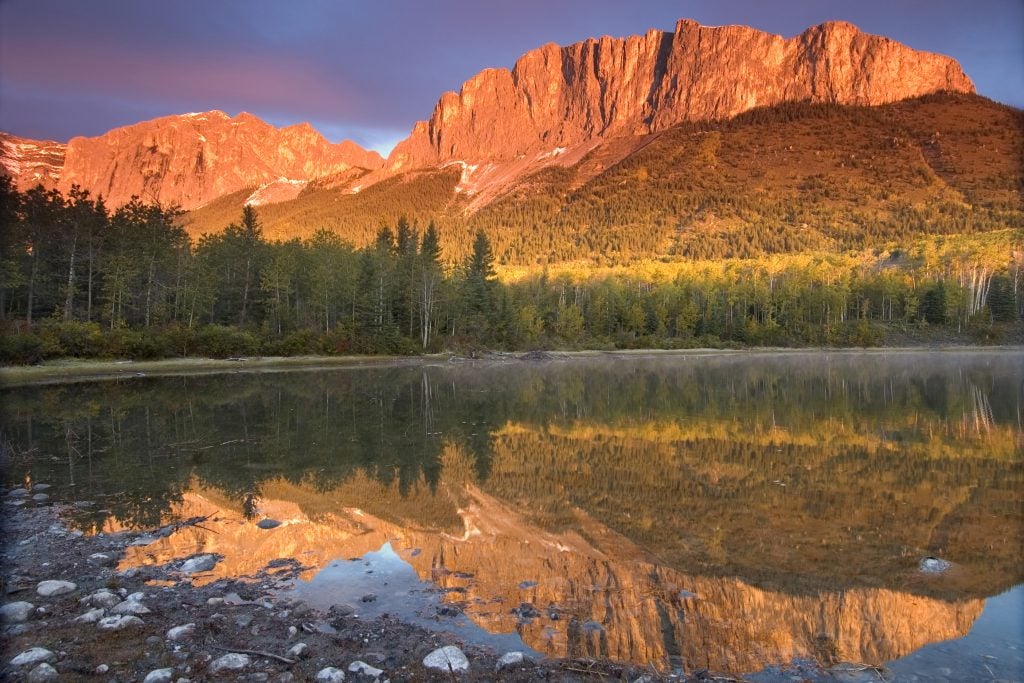 Mount Yamnuska

 
Must-Do Routes
Joy, Mount Indefatigable - (5.6, 600m)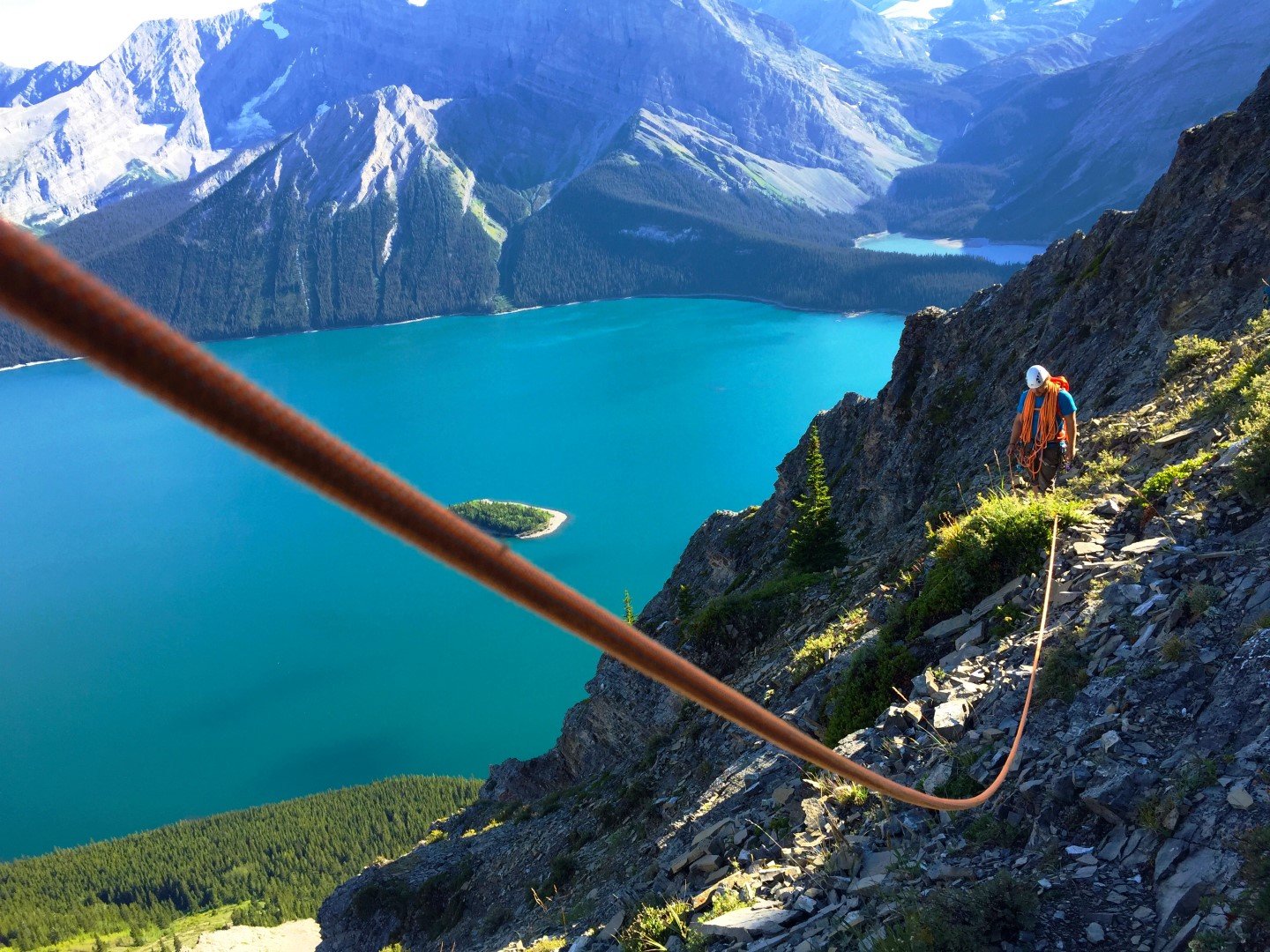 A long right facing dihedral unlike any other route in the Rockies. All gear, not fixed pieces and no rap stations make this a popular route for new trad leaders looking to further develop their trad skills. 
Grillmair Chimneys, Yamnuska - (5.6, 8 pitches, 295m)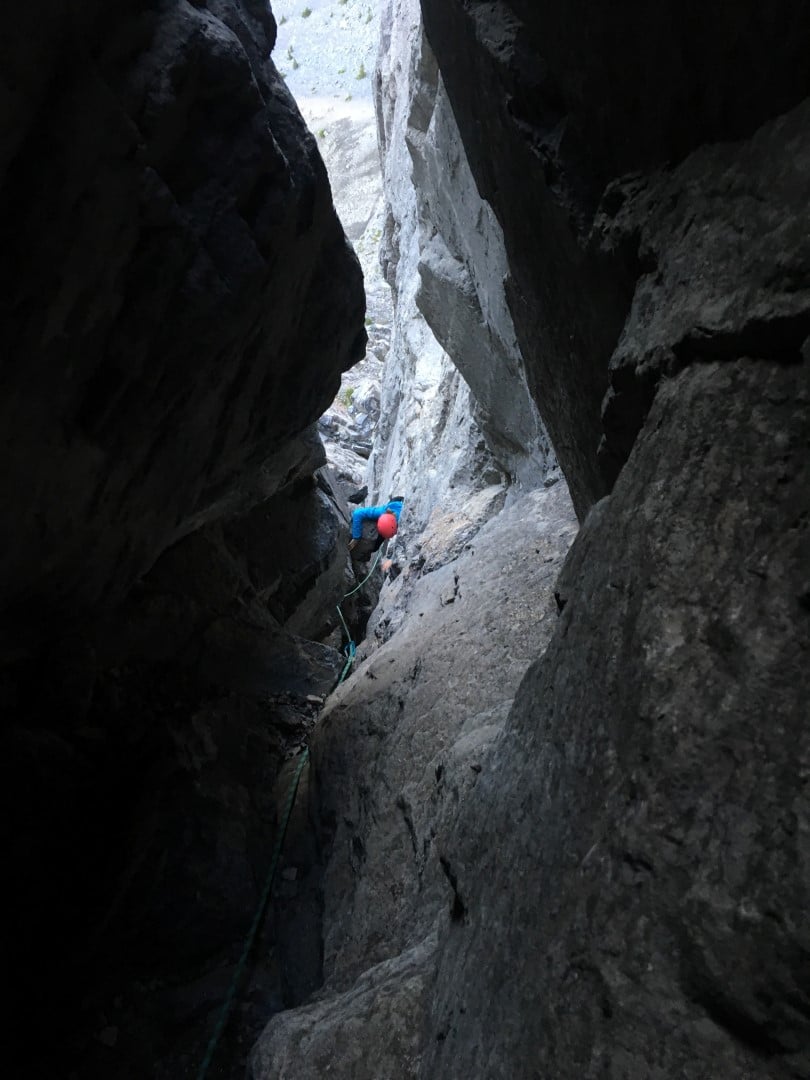 Fun climbing through a cavernous fissure and escaping through a tiny hole at the top. 
Easy climbing but not to be missed.
Twilight Zone, Kid Goat - (5.7, 5 pitches, 200m - 295m)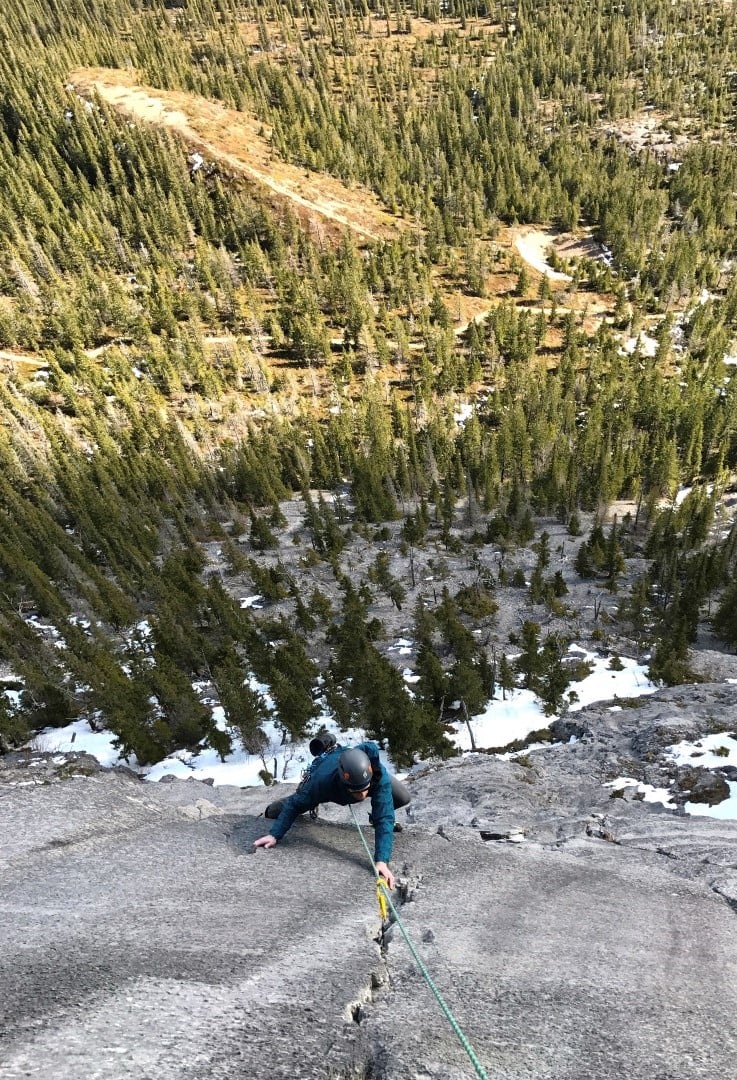 As easy outing for a half day. This well-traveled route is a great introduction to limestone trad climbing and preparation for Yam.
NE Face, Ha Ling - (5.6, 12 pitches, 450m)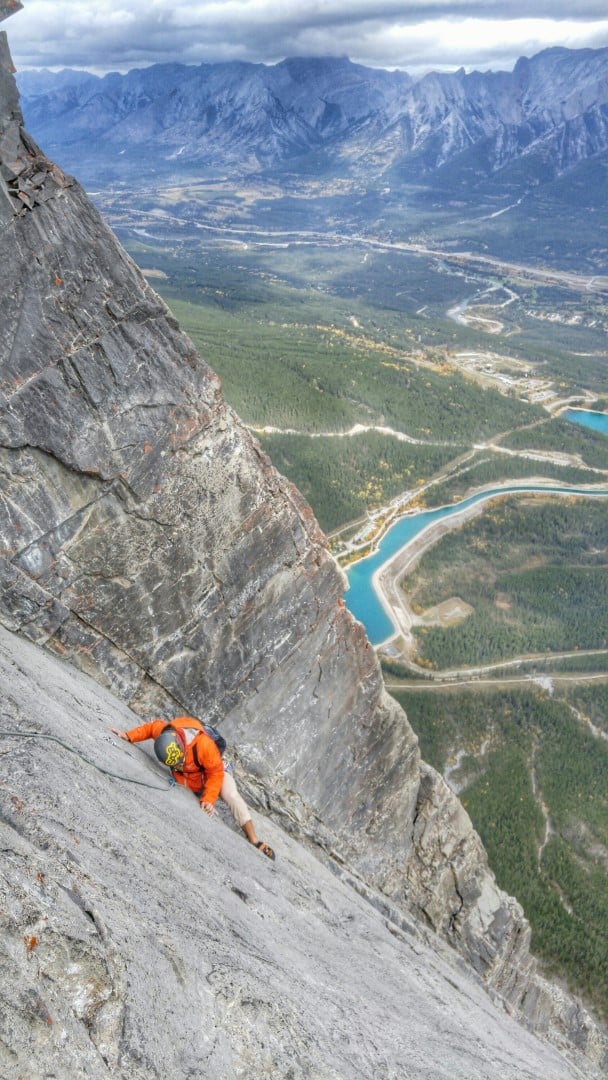 This classic route has an alpine feel and finishes atop the most popular scramble in the Bow Valley.
McKay Route, Tower Of Babel, Lake Moraine - (5.7, 7 pitches, 400m)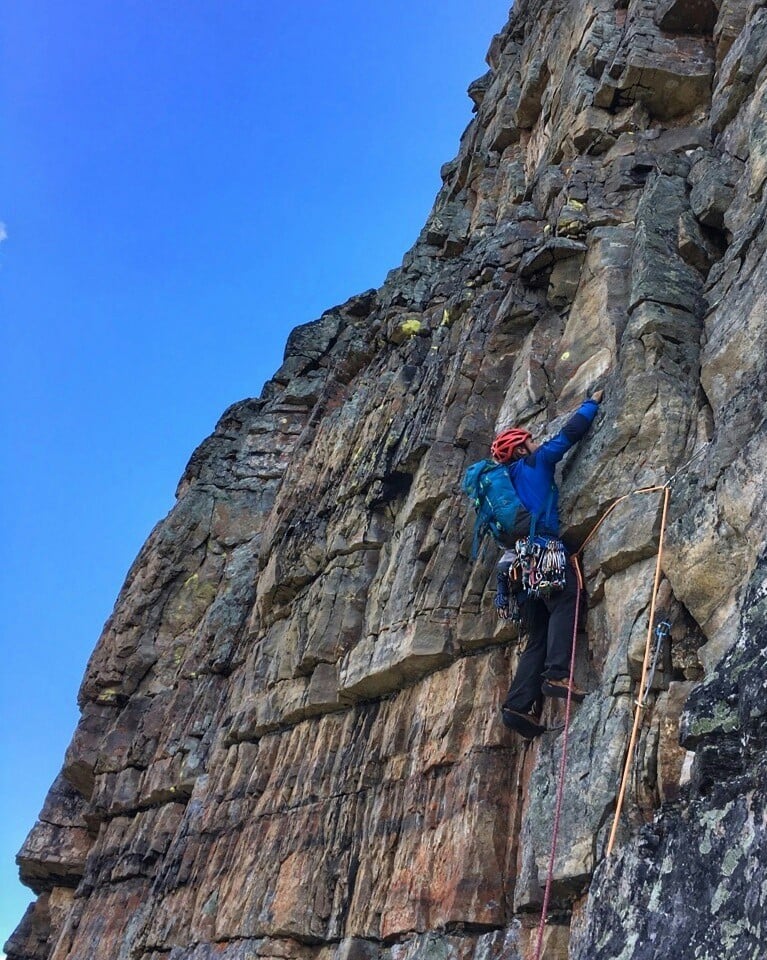 Steep and juggy with great protection. A moderate grade trad route on bomber quartzite make this an excellent option for intermediate climbers looking to improve their alpine rock skills. This route stays shaded and can be very cold, making it ideal for hot summer days.
Eeyore's Tail, EEOR - (5.8, 10 pitches)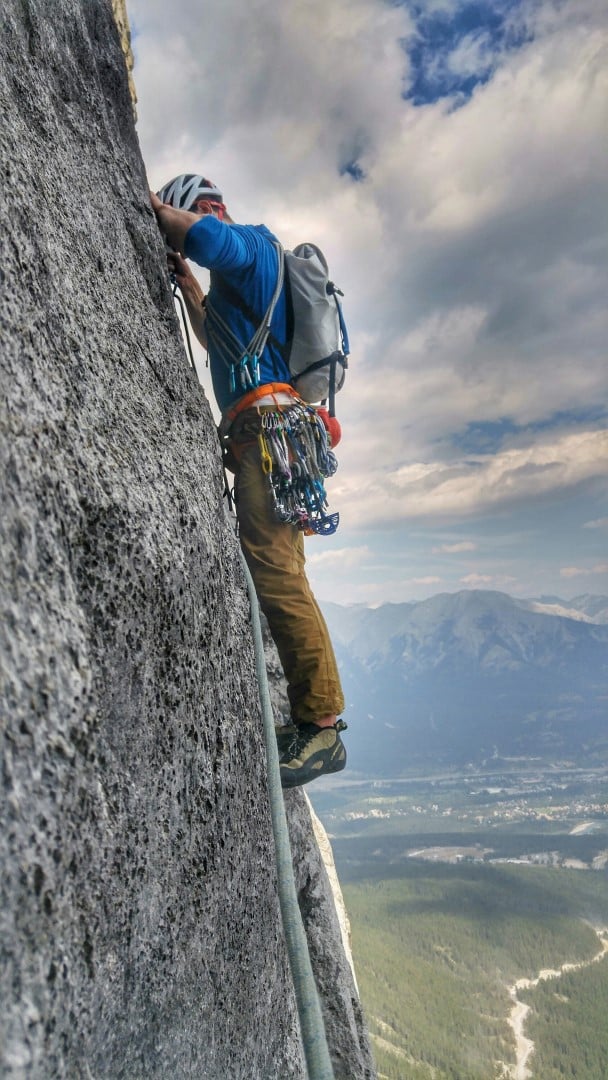 Varied climbing on excellent rock with a few sensational moves and an exciting finish.
The Fold, Mount Kidd - (5.9, 11 pitches, 220m)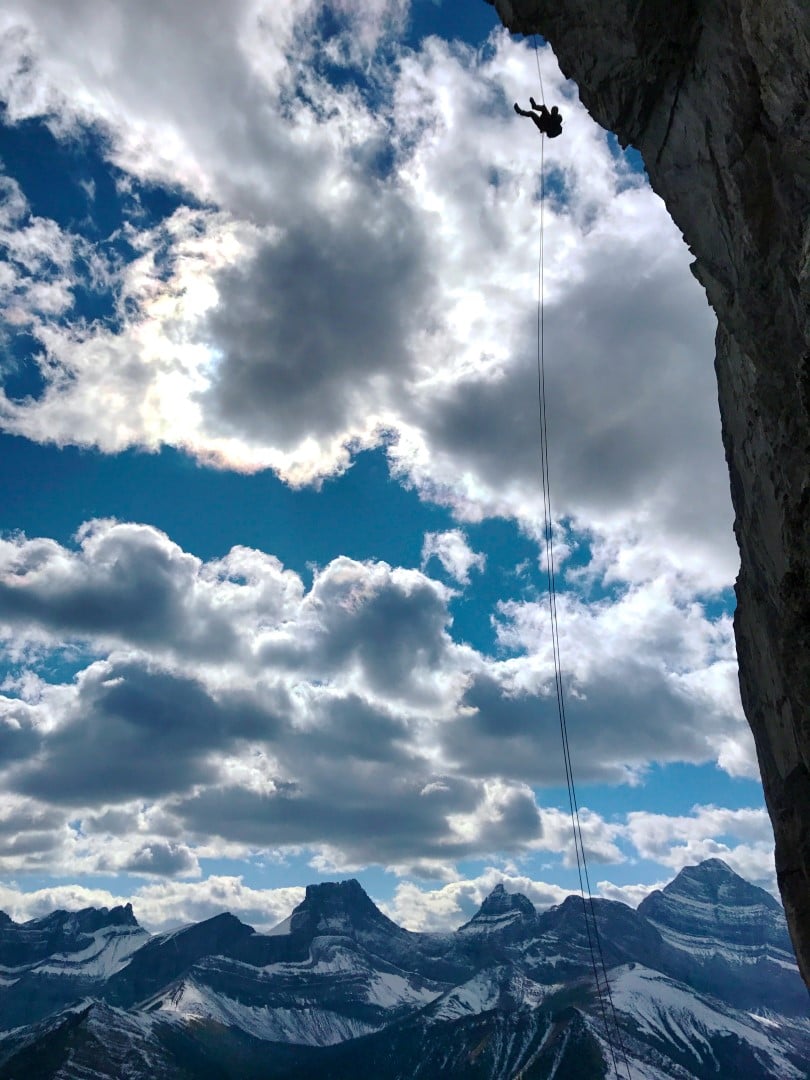 This unique geological feature provides exciting climbing with lots of fixed protection. A free hanging 60m rap tops off a great route.
Three Roofs, Guides Rock - (5.10c, 4 pitches)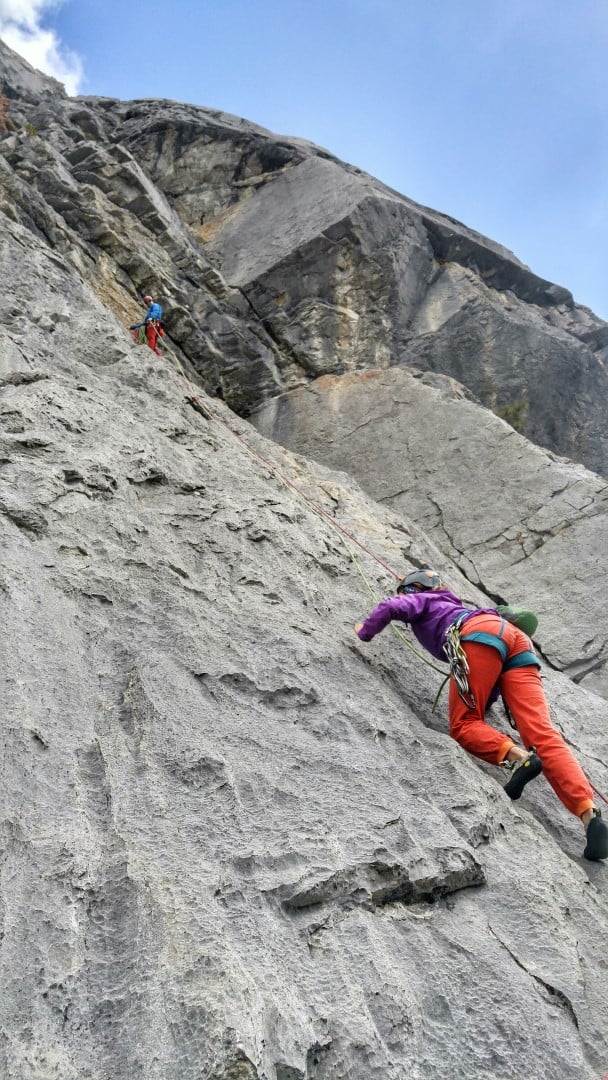 Mostly 5.9 climbing with a bouldery 5.10c move on some of the best rock in the valley. Bring a #4 to protect the crux!
Screams From The Balcony, Saddleback - (5.11b, 5 pitches)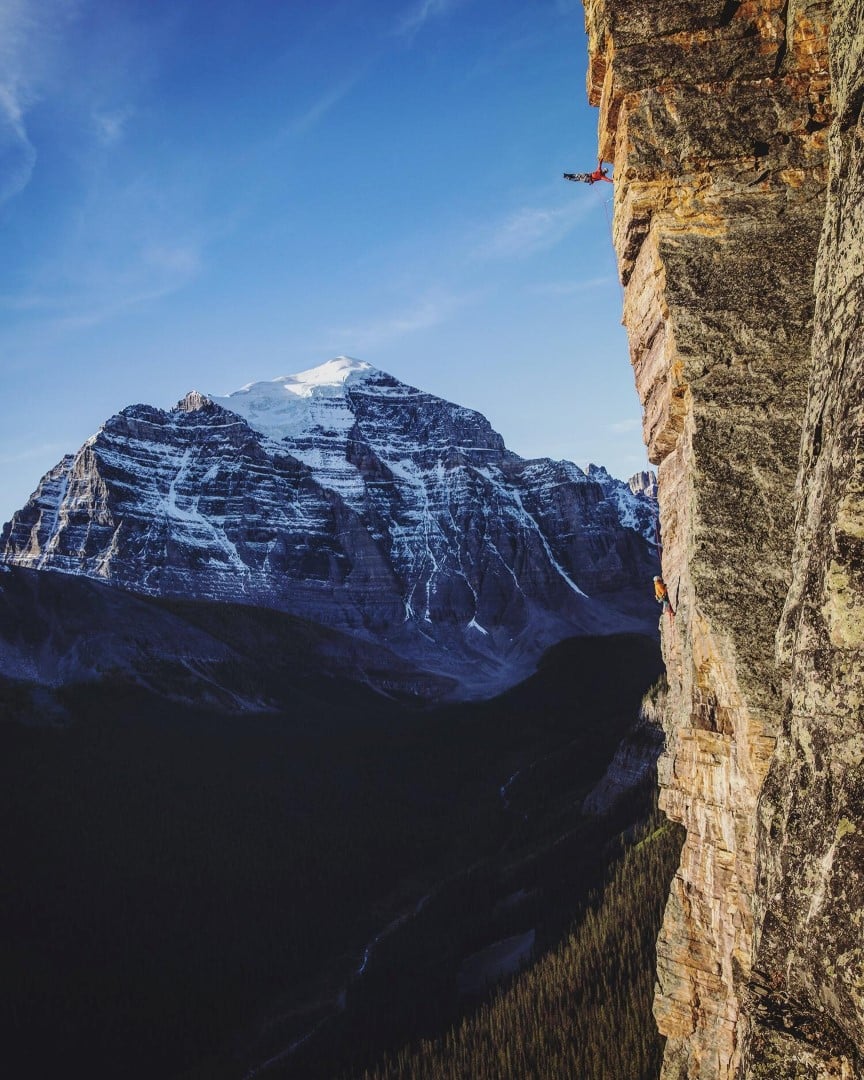 One of the best routes around on perfect quartzite. The cruxes are bolt protected and the ambiance under the north face of Mount Temple is unbeatable.
Sport Bolted Multipitch Climbs
The Bow Valley is home to some of the best multipitch sport routes around, opening up some tremendous terrain which would be inaccessible otherwise.  Many of the routes included below require nothing more than a rope and a handful of draws.
Rundlehorn, Mount Rundle - (5.6, 300m)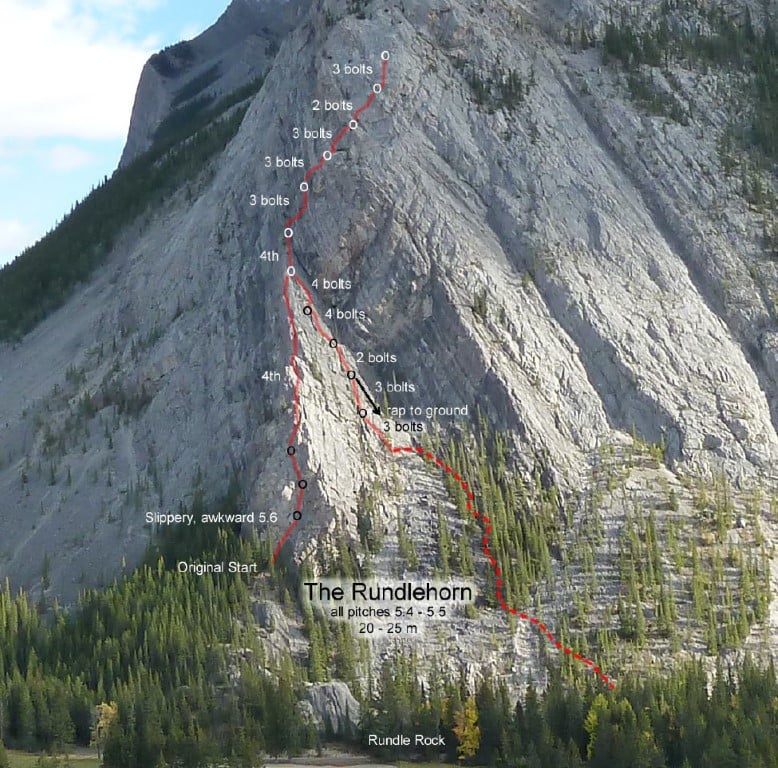 Mostly 5.5 climbing and completely bolted. This is an excellent route to practice multipitch skills and get great views of Banff.
Aftenroe, Mount Cory - (5.7, 9 pitches, 220m)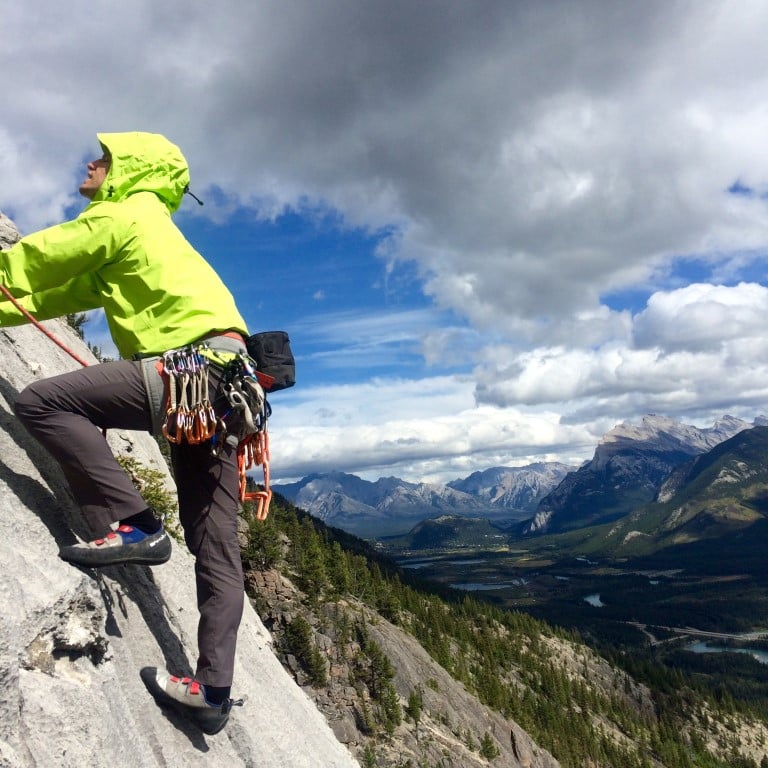 A well bolted, deservingly popular sport climb on perfect slab with great scenery. Beware of crowds on weekends!
Achilles Spire, Mount Andromache - (5.8, 13 pitches, 300m)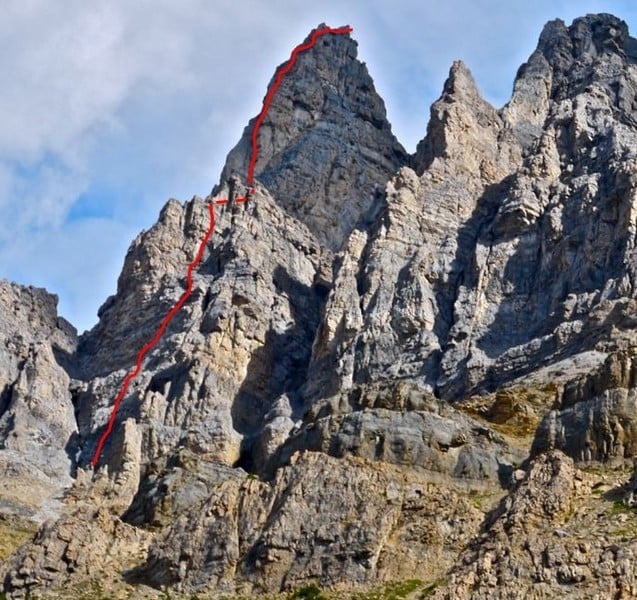 A very unique, pure sport-bolted alpine route. The climbing is moderate but the commitment is high
Plutonian Shores, Raven's Crag - (5.9, 7 pitches, 220m)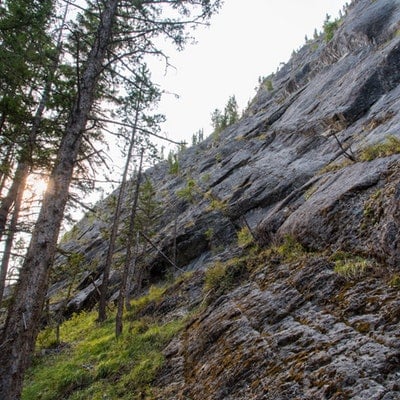 A newer route on great rock at a scenic crag. This shaded multipitch is a great option for hot days.
Beautiful Century, Nanny Goat - (5.10a, 9 pitches)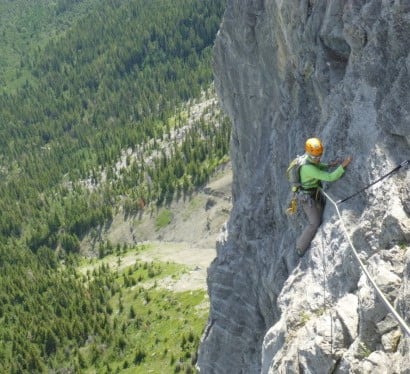 Fun climbing at a moderate grade with a single cruxy move. It gets early morning sun so bring an extra layer if you're climbing in the afternoon.
True Grit, EEOR - (5.10a, 6 pitches)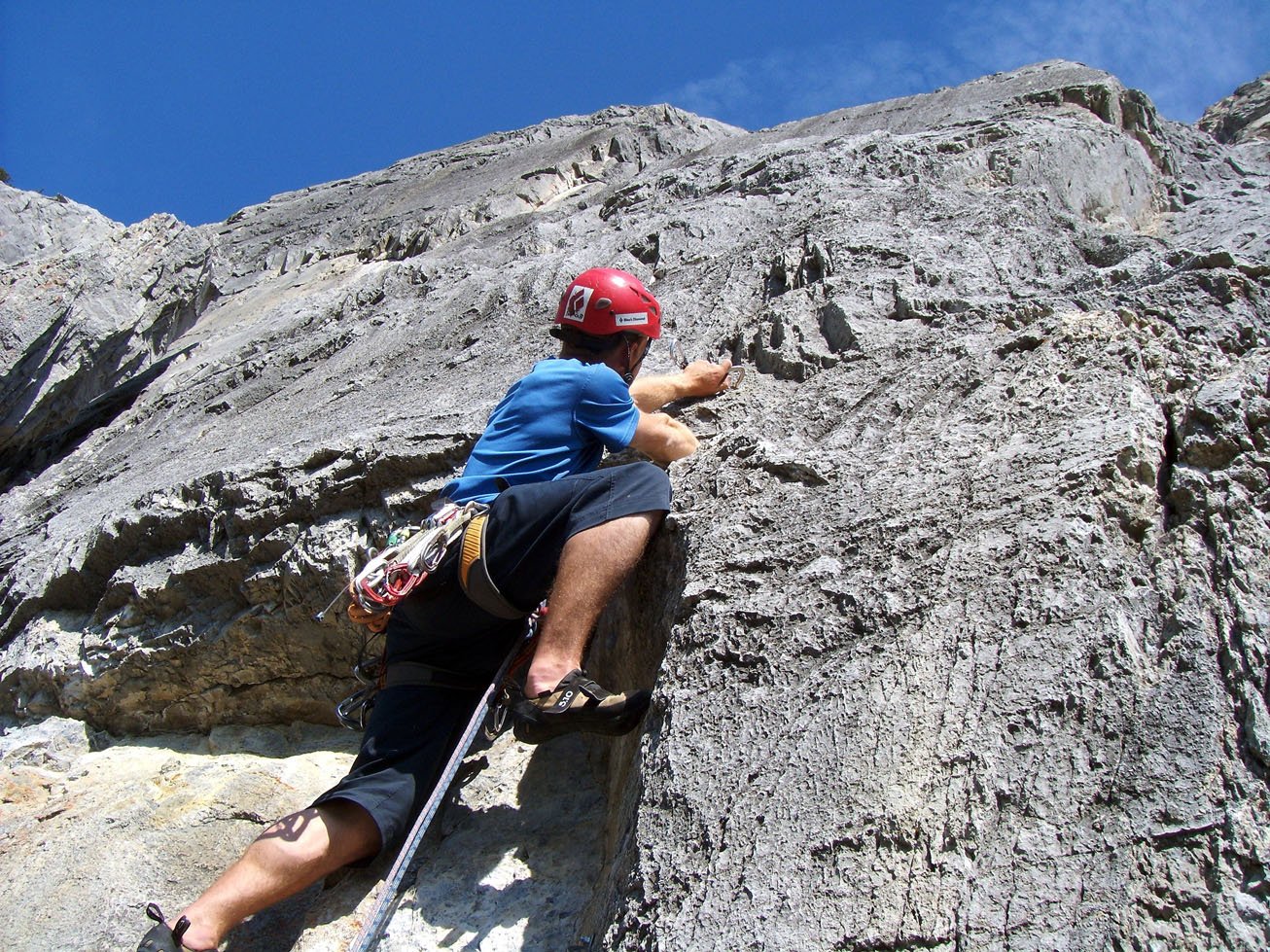 One of the first sport bolted multipitch climbs in the area. The surface is getting slick making it feel more like 10c. This can easily be linked up with other bolted sport multi's next to it, making for a full day.
Cardiac Arete, Grand Sentinel, Lake Moraine - (5.10d, 4 pitches)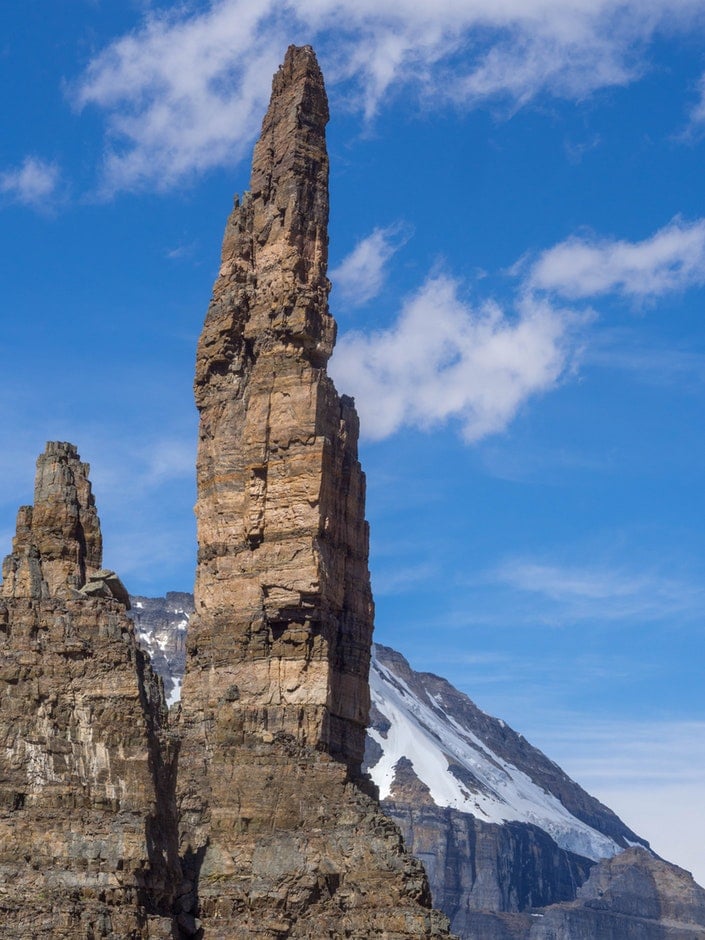 A truly captivating tower. This spire is not to be missed. Get there early!
Dreambed, Yamnuska - (5.11b, 8 pitches)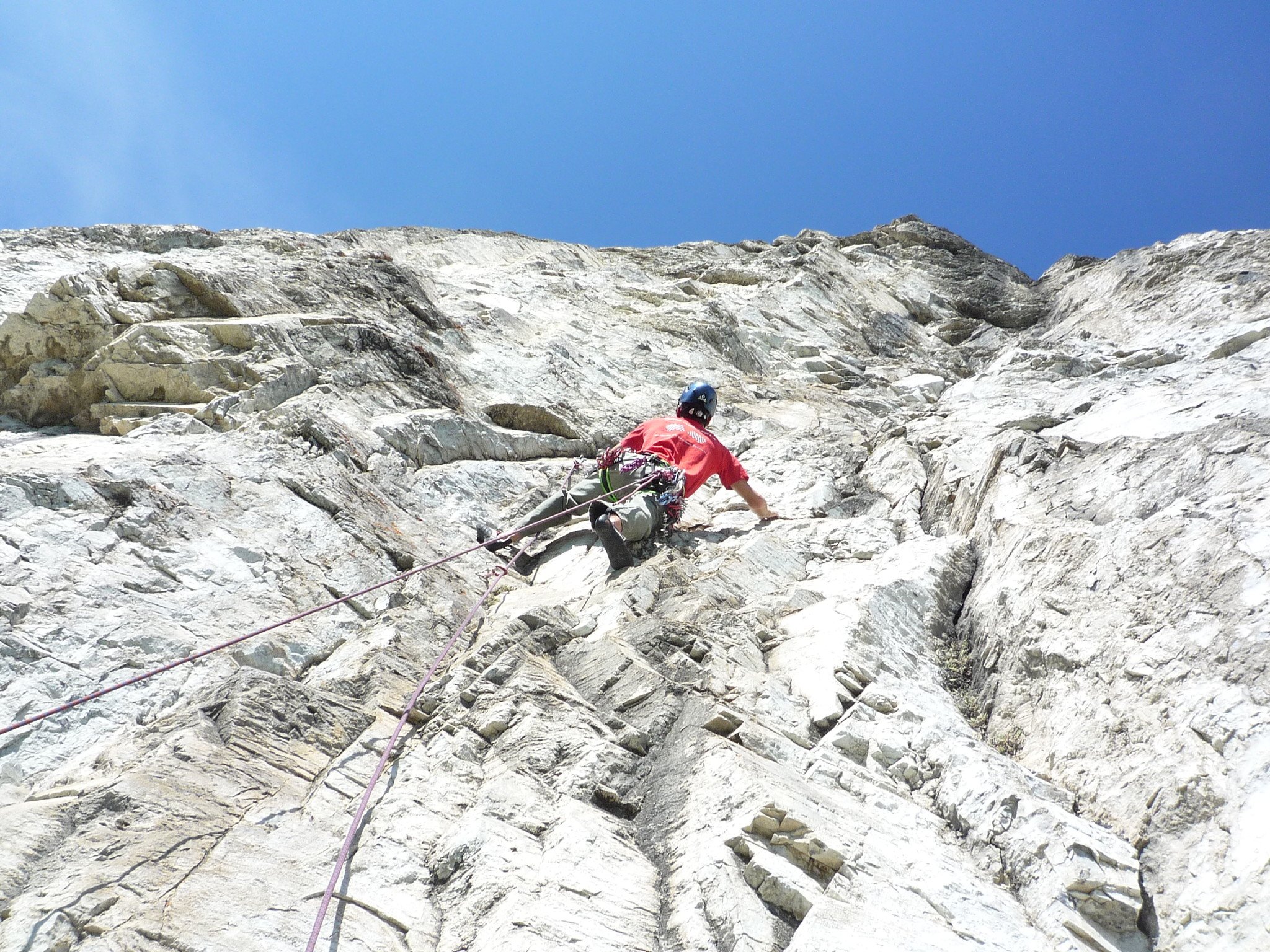 A "mixed modern" route, this mainly sport climb follows a great line and a selection of gear is required to supplement the bolts.
Tall Story, Echo Canyon - (5.11c, 8 pitches)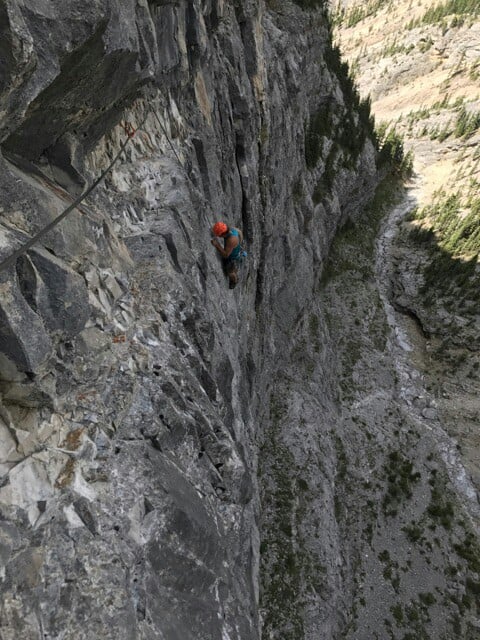 Sustained, positive, powerful climbing. A must-do.
Longer Routes
The quality of Bow Valley sport climbing is perhaps only eclipsed by the incredible alpine climbing options. Many world-renowned test pieces can be found here and the prospect of outlining the highlights is far too great for a guide of this nature.  For longer, alpine style routes in the Bow Valley, the definitive source of information is the newest book from David P. Jones entitled Rockies Central.  
While not quite in the realm of alpine routes, we've included four incredible routes that can be done in a day and offer more of a rock climbing flair.  It should be noted that while these receive rock grades, the commitment levels are very high and should be treated as alpine routes in nature. Bring appropriate gear and plan for a very long day!
Must-Do Routes
Super Brewers, Castle Mountain - (5.9, 20 pitches)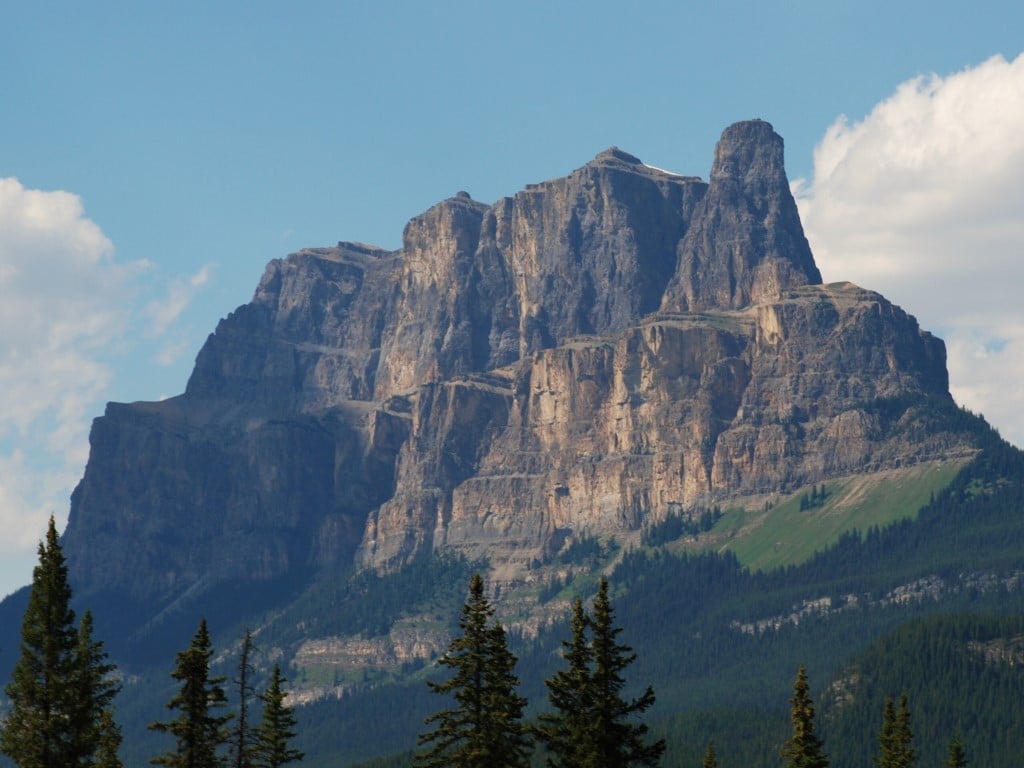 Linking Ultra Brewers and Brewers Buttress on Castle Mountain makes for a long day on bomber rock. Bring a large trad rack if you want to link up pitches.
Sisyphus Summits, Ha Ling - (5.10d, 21 pitches)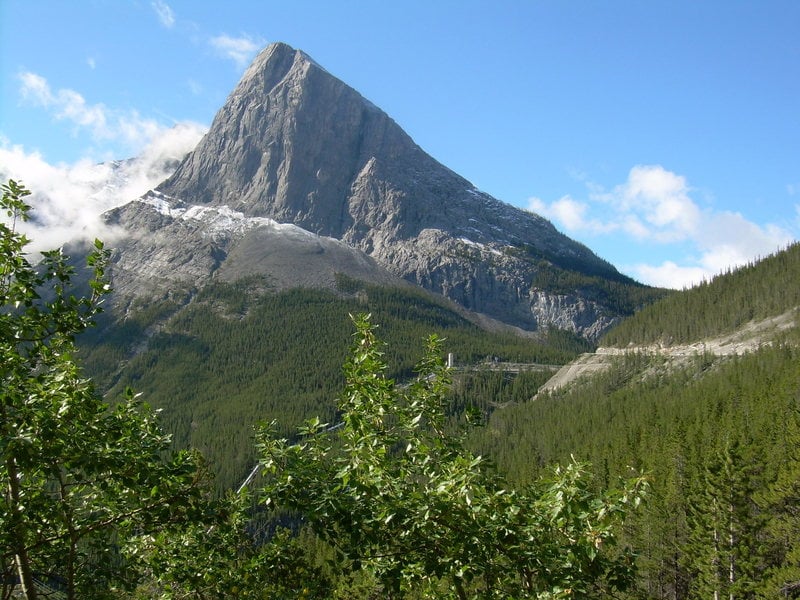 Formerly the longest sport climb on the continent north of Mexico, this awesome line takes you straight up the face of Ha Ling overlooking the town.
West Ridge, Little Sister - (5.10a, 22 pitches)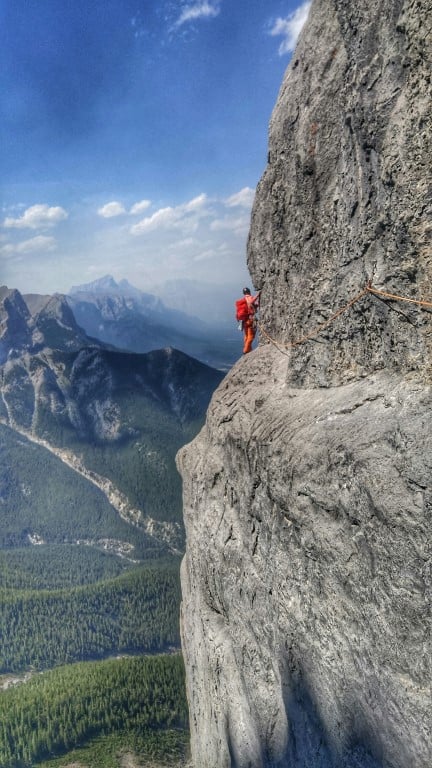 This wildly adventurous line feels like a remote alpine climb without walking distance of town and crosses over the iconic Three Sisters.     Very little fixed gear makes this a committing but rewarding route
Fluffy Goat Buttface, Goat Mountain - (5.11b, 21 pitches, 605m)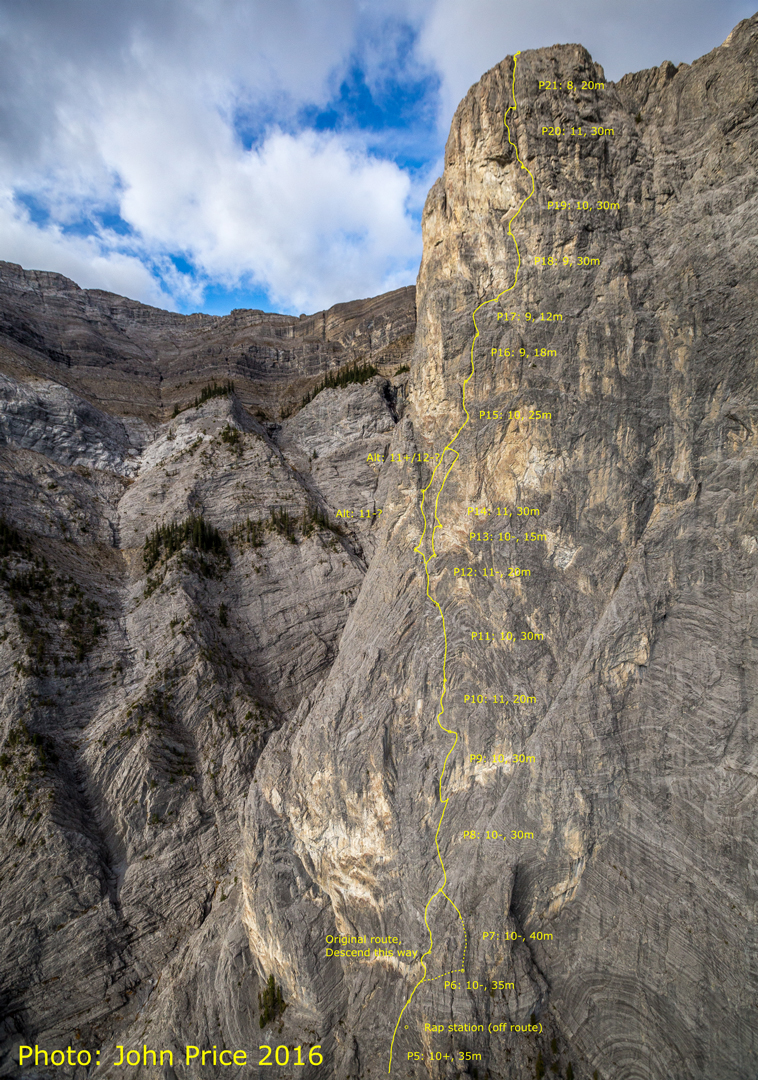 One of the longest fully bolted sport route in North America. Since it's completion in 2017 it has yet to see a one day ascent.
Important Information
Prime Rock Climbing Season
Rock can be climbed any month of the year in the Canadian Rockies but the typical season spans from April to October with July to September being the most reliable months.  No matter what time of year you're planning to visit, be prepared for conditions to change drastically and plan accordingly.
Getting Around 
You will require a vehicle to access most of the climbing within the Bow Valley.  A number of places, such as Lake Louise, can be accessed by bus but you'll enjoy your time much more with a vehicle.  A number of operations exist within Canmore and Calgary to rent a vehicle. 
Fees
With the exception of a National Parks Pass, which can be purchased daily or annually, you are not required to pay fees to climb in the Bow Valley.  
Camping
There are a number of places which allow free backcountry camping but within National and Provincial Parks camping is strictly controlled and requires a backcountry wilderness pass. Contact Parks Canada for additional information.  Additional information for camping around Canmore can be found here.
Cell Phone Coverage
Most areas surrounding the townsites of Canmore, Banff and Lake Louise have excellent cell phone coverage but if you venture to remote locales ensure you have a means of communication should an emergency arise.  It is recommended to have a  device with two-way communication like a Garmin InReach or a satellite phone. 
Local Ethics
Leave No Trace
We're fortunate to recreate in a beautiful area and it is important to leave it that way.  Please pack out everything you bring in, including all garbage, wrappers, cigarette butts and tape.  Stick to established trails and parking spots and don't break tree branches.  
Share The Crag
Many crags can become busy, particularly on weekends and it is important to share lines.  it is considered poor form to reserve lines by placing an unused top rope.  If you're still using a line, please consider allowing others to use your rope for a lap or two. 
If you're working a popular route, try to keep the hang-dogging to a minimum if others are hoping to climb. 
Noise And Music
Be mindful of your volume and profanities as many of our climbing locales are shared venues. Please be respectful of others.  
Passing Others On Multipitch Climbs
Generally, it is not advisable to climb a route underneath another party on Rockies limestone as there exists quite a propensity for rock fall.  Should you wish to climb below another party and wish to pass them, please ask them respectfully but know they are under no obligation to oblige.  When you pass another group you are potentially putting them at risk for rockfall and they do not have to expose themselves to this. If you don't wish to climb below other parties, arrive earlier or choose another route.
Fixed Gear
At many crags, you will find quickdraws and other gear left on routes. Please do not take these! It is common for climbers to leave fixed gear on routes they are projecting. Unless otherwise indicated, please feel free to use them (after inspection) or clip your own but leave them on the bolts.  Likewise, you will often find fixed ropes, tools and gear buckets at the base of climbs. These are generally used by kind volunteers generously retrofitting the routes which we so enjoy. Please leave their equipment alone. 
Conversely, please do not alter any routes you encounter by adding or removing bolts, pitons or other fixed gear without consulting the first ascensionist or route builder.  
Cleaning Climbing Anchors
It is a widely accepted practice to be lowered off ring bolts in the Bow Valley.  In many places, the hardware is set up in a manner which facilitates easy lowering off a single ring equalized with a chain between two bolts.  It is frowned upon to top rope directly off fixed gear.  If you plan to top rope, please construct your own proper anchor.
Be sure to inspect any hardware before trusting it implicitly. If you're uncomfortable with these procedures please seek proper instruction.  
Drones
The use of drones is prohibited within all Parks Canada places and many of the Provincial Parks as well.  There is zero tolerance to this rule and fines are hefty (more information here).  Should you climb outside the restricted areas, and wish to use one, please be respectful to other climbers and be mindful not to buzz anyone. 
Crag Dogs
Everyone loves a crag pup but if you choose to bring yours, only do so if you're sure they won't disrupt other climbers and keep them tied up somewhere shady with plenty of water and away from potential rockfall.  
Come Prepared
We're blessed with some of the best Search and Rescue technicians on the planet and their services are free with the purchase of a National Parks Pass.  Please reserve this resource for emergencies only and plan to be self-sufficient.  This means having a headlamp, proper clothing and equipment and starting the day early.  
Local Guidebooks

Bow Valley Sport: 2nd Edition – by Derek Galloway.  The latest and most definitive guide to sport climbs in the Bow Valley. 

Banff Rock – Chris Perry.  A comprehensive guide to routes around Banff. 

Climbers Guide To Kidd Goat – by Chas Young.  A small but thorough guide to a high concentration of excellent climbs. 

Rockies Central – by David P. Jones.  The first of four books outlining alpine routes from Kananaskis to Lake Louise. 

Canadian Rock: Select Climbs of the West – by Kevin McLane.  A selection of the best routes in western Canada. This is one of the best sources for multipitch routes.

Rock Climbs Of Mt. Yamnuska – by Andy Genereux.  A very well written guide to the most developed and iconic climbing faces in Canada.

Bow Valley Rock – Download sections of this now out-of-print guidebook, including many obscure routes found nowhere else.

 

Useful Links

Bow Valley Climbing Crew Facebook Page – A useful Facebook page to join and frequent for condition reports, finding partners and staying abreast with the happenings of the local community.

TABVAR – The Association Of Bow Valley Rock climbers are who to thank if you clip a bolt around Canmore.  Their website contains loads of useful information, newly uploaded topos and relevant news.  Consider making a donation if you value their contributions.

While we aren't a guiding company, we'd love to help you plan your trip any way we can. Send us an email or stop by the shop and we'll do whatever we can to ensure your Canmore climbing experience is the best it can be.  And if you think we missed a must-do route, please let us know in the comments below.  We'd love to hear from you!

 

 

 
Climbing is dangerous and posses inherent risk.  It is your responsibility to seek proper instruction from qualified professionals to learn the necessary skills to participate in any of the activities described herein.  The information found here is for entertainment and general information purposes only and does not constitute advice, nor is it intended to be educational in any way.